Paulson Tells Clients Central Bank Purchases to Back Gold
Kelly Bit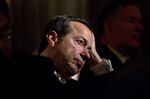 John Paulson, the hedge-fund manager who's lost money this year after a 16 percent decline in gold, told clients that purchases by central banks and demand in Asia will support the metal in the near term.
"Although inflation and inflation expectations remain subdued, which appears to have dampened the appetite for gold so far this year, we believe that ongoing central bank purchases and strong gold demand from China and India will help support the gold price in the near-term," Paulson & Co. said in a letter to clients that was obtained by Bloomberg News.
Gold plunged 13 percent in two sessions through April 15, the biggest slump since 1980. Futures touched $1,321.50 on April 16, the lowest since January 2011, partly on concern that central banks in Europe will sell holdings to pay debt. Paulson, who became a billionaire in 2007 by betting against the U.S. subprime mortgage market, had about $9.5 billion of his own money invested across his hedge funds at the start of this year, of which 85 percent was in gold share classes.
"With ongoing, open-ended bond purchases, the Federal Reserve's balance sheets continues to expand, and the Fed has now also confirmed that there is not going to be an unwinding of the stimulus through bond sales," the hedge fund said in the letter. "This, in our view, increases the probability that money printing will eventually lead to inflation."
Armel Leslie, a spokesman for $18 billion New York-based Paulson & Co., declined to comment on the letter.
Gold Thesis
Paulson, 57, began investing in gold in 2009 for protection against eventual inflation and currency debasement as central banks pumped an unprecendented amount of money into the global economy. He created share classes of his funds denominated in the metal at an average cost of $950 an ounce that year, meaning he's made money on his wager since. The following year, he created his Gold Fund, which invests in bullion, derivatives and mining stocks.
Paulson began 2012 by telling investors the Gold Fund would be his best-performing strategy over five years only to find that stocks related to the metal were one of the biggest drivers of losses in that fund and in the firm's event-driven Advantage funds. The Gold Fund plunged 25 percent and the Advantage Plus fund, which had a quarter of the portfolio invested in bullion stocks at the time, fell 19 percent.
The firm reiterated its thesis to clients after gold entered a bear market last week, saying the cost of goods and services will eventually rise.
Reiterating Thesis
"As we were four years ago, we remain concerned that the unprecedented printing of U.S. dollars (as well as euros, pounds, yen and Swiss francs) could lead to future currency depreciation and inflation," the firm said in the letter. "Although the expansion of the monetary base has not yet translated into money supply growth, if this stimulus cannot be removed, or ends up being only partially removed, we believe the new money created will eventually find its way into the money supply, leading to inflation."
Paulson is trying to recover from two years of losses in some of his funds after wrong-way wagers on a U.S. economic recovery in 2011 and a worsening European debt crisis in 2012. Most of the dollar-denominated shares of his funds have gained this year through March, with the exception of the Gold Fund, which has fallen 28 percent.
Before it's here, it's on the Bloomberg Terminal.
LEARN MORE