AMD Rehires Graphics-Chip Executive Raja Koduri Back From Apple
Ian King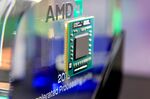 Advanced Micro Devices Inc., struggling to lessen its reliance on the shrinking personal-computer industry, said an executive with graphics-technology experience has rejoined the company, three years after defecting to Apple Inc.
Raja Koduri, 44, will lead engineering efforts in visual computing, reporting to Chief Technology Officer Mark Papermaster, another former Apple executive, Sunnyvale, California-based AMD said in a statement today.
AMD Chief Executive Officer Rory Read is remaking the company to develop new processor technology, part of an effort to differentiate its products from those of larger rival Intel Corp. and open up new markets outside of PCs. Global PC shipments fell 14 percent in the three months that ended in March, the steepest quarterly drop on record and worse than the 7.7 percent decline forecast by research-firm IDC.
Koduri joins a growing number of former Apple engineers working for the AMD. Papermaster oversaw Apple's mobile-device engineering until he left in August 2010. AMD also rehired Jim Keller from Apple. Keller and Wayne Meretsky, who run software development at AMD, had worked at PA Semi, a semiconductor-design company that was bought by Apple in 2008.
AMD reported its third-consecutive quarterly loss yesterday amid slumping demands for PCs. Read is targeting 20 percent of revenue from outside of PCs by the fourth quarter of this year. The company yesterday forecast revenue for the second quarter that may beat some analysts' estimates, bolstered by projected revenue from game consoles.
Microsoft Corp. will use an AMD processor in its next Xbox game machine, people with knowledge of the matter said earlier this month. That followed an announcement by Sony Corp. that the upcoming PlayStation 4 will also use AMD parts.
Before it's here, it's on the Bloomberg Terminal.
LEARN MORE