Venture Capital Investing Slows ...
by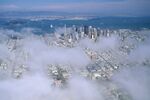 In the first quarter of 2013, U.S. venture capital firms invested at the slowest pace in more than two years, according to a Dow Jones VentureSource report released today. Venture firms closed 752 deals in the quarter, putting $6.36 billion into companies, both the lowest totals since the third quarter of 2010. Nor were VCs especially successful at exiting investments: Venture-backed IPOs raised less money than in any quarter since the third quarter of 2011, and the fewest venture-backed companies were acquired since the first quarter of 2009.
Here are three more takeaways from the report:
1. At least they raised money.
Perhaps the best piece of news in the report is that venture capital firms were more successful raising money to invest in the first quarter, as 43 funds attracted $4.2 billion, up from 37 funds and $2.57 billion in the previous quarter. The amount raised is less impressive in the context of other recent quarters—VC firms raised $6.33 billion in the first quarter of 2012.
2. Health care is shrinking here, too.
When John Tozzi highlighted a report on angel investing earlier this week, he noted that health-care businesses made up a smaller share of angel deals in 2012 than in the year before. While health care accounted for 30 percent of total VC investment in the first quarter, total dollars invested were down 16 percent—a larger decrease than the 11 percent decline in venture investment across all segments.
3. Pinterest was the biggest.
Online bulletin board Pinterest landed the biggest deal of the quarter, closing a $200 million round led by Valiant Capital Management. Daily deal site LivingSocial's controversial $110 million round, two health-care deals, and a $150 million round for IT management company SevOne made up the rest of the top five.
Before it's here, it's on the Bloomberg Terminal.
LEARN MORE