pursuits
Restaurateur Keith McNally Returns Home With Balthazar London
Having conquered New York, Keith McNally returns home to recreate his iconic Balthazar in London
John Lanchester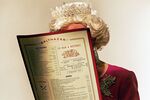 Walking into Keith McNally's new restaurant, Balthazar London, may be the closest any human will ever get to being suddenly and miraculously transported in space and time. McNally, 61, who brought the Parisian bistro to America—augmenting the original, rendering it in supersaturated color—has reimported the idea back across the Atlantic, to a city that at the moment is keener on American food than French.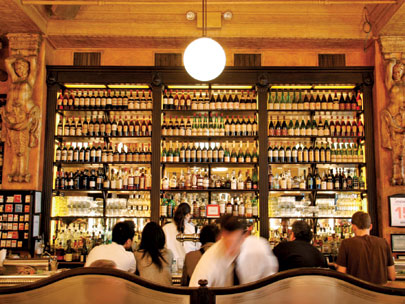 London's Balthazar, which opened in February, is different in feel from the New York branch, situated as it is in the hectic tourist epicenter of Covent Garden rather than the cool SoHo setting of the Spring Street original. Step through the door, however, and there's an extraordinary sense that you're not just in a similar restaurant, but also in the same room. The restaurant is not merely like the American version in look and feel, it's identical. The nicotine-stained tiles are the same, the tables, the banquettes, the mirrors, the bar fittings, the head rails behind the seats, even the paper tablecloths (a McNally signature) are the same. This impression is not misleading: Many of the fittings don't merely resemble those from New York, they are the ones from New York.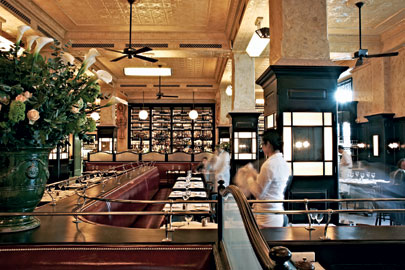 To anyone who knows anything about the restaurant business, there's something numbing about the amount of work involved in achieving this level of detail. To make a new restaurant look worn in and familiar and well-loved, right from Day One, is a frighteningly large amount of work and frighteningly expensive. You might worry for the person behind this venture—you might think he hadn't done his math right—if you didn't know who he was. McNally moved from London to New York as an actor in 1975 before turning to the restaurant business and opening the Odeon in 1980. Cafe Luxembourg, Nell's, and Lucky Strike followed, drawing a crowd of show business types, who in turn drew ordinary citizens excited to be exploring that new wonderland, Downtown. After taking a break from restaurants to make films, he returned to the business with Pravda in 1996, followed by Balthazar a year later, Pastis (1999), Schiller's (2003), Morandi (2007), the Minetta Tavern (2009), and Pulino's (2010). The U.K. trade magazine Restaurant recently had a cover story on McNally with the headline, "The Reluctant Restaurateur." One wondered just how many places he'd have opened if he actually liked doing it.
For the record, Balthazar London is McNally's 12th opening. The early signs suggest it's going to be another hit. The food's richer and sweeter than at the generic Parisian inspiration, and in that sense it's more an American restaurant than French—which is one reason Londoners like it. Prices are reasonable, too: The Monday special choucroute, for example, was £14.75 ($22), vs. $39 in SoHo. All this means the restaurant's already full, and the early critical response has been hugely positive—so much so that another reviewer, in the London Times, was moved to call it "truly the worst kitchen to open in London since the arrival of McDonald's" and tweeted that the general praise for it is "the greatest mass delusion since Nazism." In London, where restaurant reviewing is a contact sport, language like this means things are going well.
McNally's other restaurants are all different—from Lucky Strike's casual Americana to Minetta Tavern's reimagined speak-easy—but have strong similarities, too. One is that they actually make money. The official version of the industry's math goes like this: A third of your turnover goes to food costs, a third to overhead, a quarter to staff, and the remainder, usually said to be 10 percent (it's actually 9 percent), comes to you. In practice, and especially at the fine-dining end of the market, few restaurateurs achieve that margin, and the broad industry view resembles that of the movie business—anyone who can make money is a genius. McNally is one such genius. In 2010 his restaurants had revenue of about $70 million a year, according to New York magazine, an amazing number at this end of the market.
He's achieved this by deploying a subtle understanding of the New York audience. It's instructive to compare him with his peer and fellow giant of the contemporary New York restaurant scene, Danny Meyer—the only man with a high-end restaurant business that makes comparable money. (Meyer, too, is opening in London later this year: A branch of his burger operation Shake Shack will be about 100 yards from Balthazar in Covent Garden.) In New York both men are out-of-towners, McNally from London and Meyer from St. Louis. Meyer, as he explains in his book Setting the Table, focuses his businesses on customer service. His managers are told to try and create "legends of hospitality," moments of attentive service so extraordinary that stories about them are told and retold (functioning, of course, as superb word of mouth for the business). His philosophy: "At its best, a restaurant should not let guests leave without feeling as though they've been satisfyingly hugged."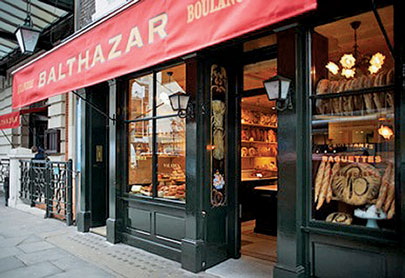 The McNally approach is not like that. "I wish I had a formula," McNally told Bloomberg News in March, "but essentially it is very much like New York. What you can't transfer is the atmosphere, or ambience, or whatever you call it." That's true, and the atmosphere of McNally's New York restaurants is unusual. Going into his places, there's a moment of anxiety and suspense. You can see a crowd waiting at the bar and a couple of people hovering beside the greeter at the reservation desk, and somebody's asking how long the wait's going to be, and you can also see, just beyond the entrance scrum, a loud, happy crew tucking into a meal. You stand there just long enough to feel how pleasant it would be to be over there with those people rather than waiting out here. Then the greeter finds your reservation, you're ushered to your table, and the impeccable service begins. The whole thing is designed to make you sigh with acceptance. McNally, an outsider, deeply understands that narrative, where you wait to be welcomed and then are granted your wish. He serves his hospitality with a twist of lemon.
The psychological dynamic may be different at Balthazar London, and not because the restaurant is still in that early, eager-to-please phase. McNally moved back to London a couple of years ago with his young family. His partner in the new venture is Richard Caring, who made his money in the clothing industry, where he had a reputation for being publicity-averse, before moving into the club and restaurant business. He's now thoroughly famous in this capacity, thanks to his ownership of high-value properties such as the Ivy, Le Caprice, and J. Sheekey restaurants in London, Annabel's nightclubs, and the Soho House club group. His interests range from London to Dubai, via Berlin and Miami and New York's Meatpacking District. Caring's net worth is $1.38 billion, as reported by the Sunday Times. (In January he sold a controlling interest in Soho House to Ron Burkle.) Caring owns the building that houses Balthazar London. Put McNally's résumé next to his, and what you have is street smarts, a strong brand, plenty of experience, and lots of capital. That's the perfect formula for a rollout. It's easy to imagine Balthazar Sydney, Abu Dhabi, and Los Angeles.
Except Balthazar London is not a rollout. This level of detail is not something you can cut and paste. It's too precise, too finicky. McNally is the kind of man who can open a restaurant only in a city where he lives, and there are rumors about his buying a pub near his home in Notting Hill, with the lovely name Cock & Bottle, to create a London version of the Meatpacking District's Pastis. Instead of being a brand rollout, this looks like a kid who grew up poor in what was then a genuinely hard part of London, Bethnal Green, and returned after making it big. McNally's success in New York was an immigrant's success, with an immigrant's energy and need to show what he can do. The motivation of his London restaurant is the different dynamic of the successful returnee. Some people, when they return home, arrive angry, with a point to prove. They want to boast, show off, take up more space. Balthazar London doesn't do any of those things, but it does, I think, come from a comparable psychological place. And that in turn explains why Balthazar London is such a freakishly accurate copy of New York. This new opening is not about making it somewhere new, but about McNally's desire to go back to the place he comes from, show his hometown the thing he's most proud of, and say, "Look what I did."
Before it's here, it's on the Bloomberg Terminal.
LEARN MORE