In London, Reining in Foreign Tycoons May Hurt IPO Fees
Reducing founders' control may drive away IPO business
by and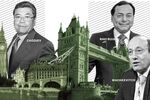 Over the past decade, London became a second home for foreign billionaires who made their money in natural resources and were attracted by the U.K.'s stability and flexible tax laws. Their companies soon followed: Commodities empires, including Kazakhstan's Eurasian Natural Resources (ENRC) and India's Essar Energy, held initial public offerings on the London Stock Exchange. The IPOs provided steady work for London's bankers and lawyers.
The trend has put U.K. regulators in a bind. Financial and boardroom controversies at some businesses controlled by foreign tycoons suggest they act as if their companies are private, investors and analysts say. Regulators have responded by proposing to rein in dominant shareholders, although they're stepping carefully so as not to drive away foreign companies, which account for more than half of London banks' IPO fees. "The proposed measures may succeed in curbing questionable corporate governance practices," says Christopher Laing, Deutsche Bank's managing director for equity capital markets for emerging countries. "But [they] may also result in companies opting for destinations that don't have as many rules governing IPOs."
For investment banks, IPOs are among the most lucrative advisory work. Banks earned about $154 million in IPO underwriting fees in London in 2012, according to researcher Freeman & Co., 53 percent of it from foreign companies. Globally last year, 31 percent of all money raised in cross-border IPOs came from offerings on London's exchanges, compared with 55 percent from the U.S., PricewaterhouseCoopers reports. "There have never been any barriers preventing foreign companies from entering London," says Clifford Tompsett, head of the Capital Markets International IPO Center at PricewaterhouseCoopers in London. "It is perceived as a more open market globally."
One incident that sparked investor complaints occurred at ENRC, a mining company included in London's FTSE index that's controlled by a trio of Kazakh billionaires, Alexander Machkevitch, Patokh Chodiev, and Alijan Ibragimov. Two independent directors were voted off the board and two others resigned in 2011 after tensions arose between them and the founders over a mining project in the Democratic Republic of the Congo. "Our chronic failure to meet the governance standards expected of a FTSE 100 company was eventually laid bare," director Ken Olisa wrote in a farewell letter after he was voted off the ENRC board. A spokesman for ENRC declined to comment.
In another controversy, Essar Energy, an Indian oil and gas producer that's part of Essar Group, replaced chairman Ravi Ruia with Prashant Ruia, his 44-year-old nephew, in 2011. Ruia resigned when he was charged by India's Central Bureau of Investigation with concealing information related to Essar Group's stake in another company as he sought licenses to run mobile phone services in India. (He pleaded not guilty to the charges.) Ruia and his brother, Shashi, control 77 percent of the company, and shareholders easily approved the appointment of Prashant, Shashi's son, over objections from Pensions Investment Research Consultants, a U.K. investor group. PIRC said Prashant was too close to his uncle to be independent. Essar Energy shares in London have declined 66 percent since its 2010 IPO. In a statement, the company said independent directors are "convinced that Prashant is best placed for the chairman's role due to the depth and breadth of his knowledge of the company and its strategy."
The U.K.'s new Financial Conduct Authority is likely to approve stricter governance measures as soon as next month. They may require that independent directors constitute a majority of the board at companies with a "controlling shareholder"—defined as holding at least 30 percent of stock. An independent director's appointment would need approvals in separate votes from minority shareholders as well as all investors. Another provision could reinstate a rule that bars controlling shareholders from influencing the day-to-day running of a company. The measures would apply to both new issuers and companies already listed.
Regulators need "to be careful not to throw the baby out with the bath water," says Charles Jacobs, a partner at London law firm Linklaters. "They need to strike the right balance between welcoming multinational companies and coming up with sensible measures that regulate but aren't excessive."
Before it's here, it's on the Bloomberg Terminal.
LEARN MORE