Microsoft Phone Chief Says Apple IOS 'Boring,' Android 'a Mess'
Scott Moritz and Dina Bass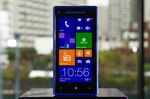 Microsoft Corp.'s top mobile-phone executive said its Windows Phone operating system has an opportunity to lure away Apple Inc. and Google Inc. users because it offers a more exciting and smoother experience.
Apple's iOS software is "boring," with icons across the bottom that offer little information or flexibility, said Terry Myerson, vice president of the Windows Phone division, at a conference in New York. Google Inc.'s Android is "a mess," with too many different versions of the operating software in use, he said.
Microsoft is seeking to make inroads with Windows Phone to take advantage of rising demand for devices. The Redmond, Washington-based software maker had 2.6 percent of the smartphone operating system market in the fourth quarter, according to research firm IDC, up from 1.5 percent in the same period the prior year. That trailed Android's 70 percent, iOS's 21 percent and BlackBerry's 3.2 percent.
Myerson didn't provide a sales update for the Windows Phone, though he said he was proud of Nokia Oyj, the company's main phone making partner.
Microsoft Chief Executive Officer Steve Ballmer said on Nov. 28 that sales jumped four times in the few weeks after the company released Windows Phone 8 at the end of October, compared with the same period in the previous year.
Before it's here, it's on the Bloomberg Terminal.
LEARN MORE