China's GDP Report Delivers Disappointing News
by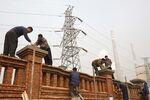 China's GDP isn't living up to expectations. On April 15, Beijing announced that the economy grew by 7.7 percent in the first quarter, below the 8 percent predicted by a Bloomberg survey of economists, and even slower than the 7.8 percent growth registered for all of last year.
"Overall, the Chinese economy had a smooth start in 2013," said new premier Li Keqiang at a seminar in Beijing on April 14, before the latest economic release. Still, "many uncertainties, both at home and abroad, still persist and make the overall situation quite complicated," continued Li.
It's a big blow to those who had hoped China had fully pulled out of a slump and was back in strong recovery mode. The response to the bad news: Some are paring back growth estimates for the year. Along with the disappointing GDP figures, fixed asset investment (excluding rural households) also underperformed, up 20.9 percent, compared with 21.2 percent in the first two months, and below the economists' expected rise of 21.3 percent.
"Analysts were pointing to the strong January-February investment figure as evidence that government-led infrastructure plans were gaining momentum and would lift the economy in the first half of 2013. This appears overdone and it may be that the January-February figure was a one-off," wrote Glenn Levine, Sydney-based economist at Moody's Analytics in an April 15 note. "Pinning an expected upturn on the basis of a strong January-February figure, in hindsight, seems a little hasty. We may need to revisit our 2013 GDP growth forecast, currently at 8%."
Also a big disappointment was industrial output, which rose just 8.9 percent in March. That compared with the survey estimate of 10.1 percent, and 9.9 percent in the first two months combined. What explains the dual poor showing? For those who had already been eyeing China's trade figures with suspicion, one big culprit may be weak exports—perhaps now even in negative territory—despite the reported strong figures.
"In our view, key reasons behind the disappointing GDP data and slowdown in industrial production in March include: (i) weak exports, with underlying actual export growth substantially lower than reported numbers; (ii) the impact of destocking in industry, which has gained momentum in Q1, in our estimate; and, (iii) weaker domestic spending, in part because of the tighter rules on government and institutional spending," wrote Louis Kuijs, chief China economist at Royal Bank of Scotland in Hong Kong.
"The Q1 data suggests that the economic recovery, kick-started by a policy easing and a pick up in infrastructure and real estate activity, has lost momentum for now, large amounts of lending in the last 6 months notwithstanding," wrote Kuijs, adding that he is revising his 2013 estimate downward from 8.4 percent to 7.8 percent.
So what comes next? While some now may be wondering whether it's time for the government to open the credit spigot even further, that's a mistake, says Tao Wang, chief China economist at UBS Securities in Hong Kong.
"We think the government should realize, after the recent episodes of credit-fuelled growth support, that providing more credit alone has become less effective in generating lasting growth even in China," she writes in an April 15 note. Instead, Beijing must "move faster with some of the planned reforms, including closing excess capacities, reducing price controls in utility and transport sectors, and lowering the entrance barrier for private businesses in the services sector."
Before it's here, it's on the Bloomberg Terminal.
LEARN MORE