Small to Big: SureFlap, the Pet Door With Microchip Access
"If anyone has a bad experience, the first thing they'll do is post it online"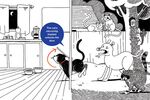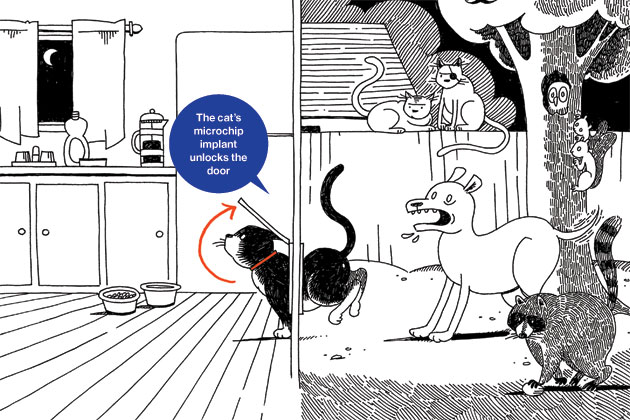 Sick of strays wandering into his home through the cat door, Nick Hill developed an electronically activated flap that responded only to his kitty. The British physicist's invention was a hit: More than 250,000 SureFlaps have been sold since 2008. A version for small dogs is in the works.
I'm a quantum physicist. About four years ago I developed a pet door that works with a microchip. If you have a cat that you want to come into the house, then the door will learn the cat's ID chip and only let your animal into the house. This solves a problem that initially I had, but millions of pet owners have: You have a pet door and your pet uses it, but so do all the neighborhood critters.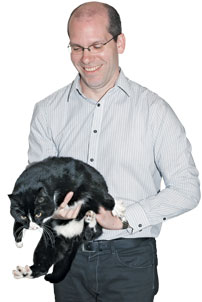 We were new to the market, and like any startup we were short on resources. Distributors were the only way we could start selling in volume. The No. 1 priority for us was customer service. If anyone has a bad experience, the first thing they'll do is post it online. It's become a lot tougher to launch a new product when you don't have the resources to deliver the service you actually want, and you rely on distributors to treat your customers how you would treat them.
Our first batch had some issues. Distributors, their initial reaction was: "Yes, we'll be happy to replace your product. All you have to do is send us your pet door, and then we'll send you out the new one." The downside of that is that customers are left with a gaping hole in their door. It's totally inadequate.
The first time I heard those stories was when I saw them online. Someone had posted on a pet forum that they'd had a negative experience. We had a meeting with the distributor to say, "You no longer have to deliver the customer service, we'll do it." That worked pretty well. It also allowed us to build up our own business and our own support of our customers, which was a very natural transition to distributing the product ourselves.
Now when we look at SureFlap online, we see two things: people saying what a great product it is, and people saying what great service it's been. Some of the people who are raving the most online are the ones who have had a lot of questions or have needed some support getting up and running. You surprise them by the quality of support you give, and they just turn into the biggest evangelists for the product. — As told to John Tozzi
Before it's here, it's on the Bloomberg Terminal.
LEARN MORE