How to Work From Your Man Cave, by Twist CEO Bill Lee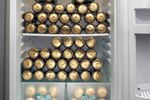 In 2008, when the real estate market collapsed, I bought a 3,000-square-foot apartment near the SoMA neighborhood in San Francisco. My plan was to create a big, open space where people could come and hang out and think up great ideas. It worked. People get their best ideas in a more relaxed environment.
It took me about two years to get this place just right. It has a gourmet kitchen, a wine cellar, some great artwork, guitars to strum, and a ton of places to sit and talk. There's the first home installation of an electronic casino table anywhere in the world and a living wall with ferns and some other plants. On average, I'll take about 200 meetings a year here. The best returns I've had have come through my friends, and this is about growing that network. This place is not about making a return; it's about meeting people and the relationships that come from that.
I've been an angel investor for about 15 years, with investments in SpaceX, Tesla Motors, Yammer, HootSuite, and other companies, along with some restaurants and hotels. I'm not a 9-to-5, traditional kind of guy, or even an investor who wants to spend all his time on Sand Hill Road with the usual venture capitalists. You'd be shocked how much business gets done when you have easy access to a bar and some social lubricants to help with the ideas process.
 
Essential Contents for Man Cave
(in order of importance)
1. Beer
2. Wine
3. Electronic casino table
4. Gourmet kitchen
5. Some guitars
 
Optional
1. Great artwork
2. Living wall featuring "ferns and some other plants" —As told to Ashlee Vance
• Lee is the CEO of Twist and an angel investor. 
Before it's here, it's on the Bloomberg Terminal.
LEARN MORE