How to Turn Your Office Into a Musical Paradise, by Band Manager Jake Friedman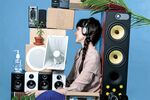 You need good headphones. You can spend upwards of $300 on a pair of Bowers & Wilkins P5s. Be forewarned: These are the kind of headphones that will ruin your life. You won't go out as much. You'll just want to listen to music all the time.
Then get a headphone amp. Yup, your headphones need extra power. It does wonders for the audio quality. I like the $60 JDS Labs cMoyBB. It's actually built into an Altoids tin to disguise your obsession. There's also the Intruder, made by Ray Samuels Audio, for $700. You might want to consider a headphone amp that comes with a digital-to-audio converter. Sure, your computer does that for you when you listen to music. But then your computer does a lot of things. Trust me, you don't want it to convert your digital music into an analog signal. I would go with the $75 FiiO E10 or the $140 FiiO E17. Even if you sit around all day listening to Pitbull, it can't hurt.
Then there are the people who go to the nth degree. They won't even use iTunes. They don't listen to MP3s. They only use totally uncompressed FLAC [free lossless audio code] files. If you listen to a FLAC audio version of a record you've listened to all your life through a great digital-to-audio converter combined with a nice amp boosting your headphones, I guarantee you'll hear it a new way. I don't know if that's particularly conducive to good work. My problem when I listen to a record on that level of detail is, all I want to do is keep listening. So there is something to be said for crappy earbuds. —As told to Devin Leonard
• Friedman is co-founder of We Are Free, a music management company whose clients include Beach House, Purity Ring, and Wild Nothing. 
Before it's here, it's on the Bloomberg Terminal.
LEARN MORE