How to Get Rich With Tattoos, by Artist Don Ed Hardy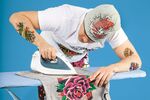 They opened 50 Ed Hardy stores in China last year. It all started to go mainstream in the 1980s. People learned of me through word of mouth and would fly in from all over the globe to get tattoos at my shop. It was crazy. I didn't know it would ever get this big. And certainly this whole brand thing, the Ed Hardy thing, that completely … it's like The Twilight Zone. It just fell in my lap.
My work caught the eye of this guy, Christian Audigier, who is a genius promoter, total loose cannon, totally wacko guy in Hollywood. He saw it, and he's like, "Oh man, I want that master license. I can make this thing huge." I didn't believe him. I just said, "Yeah, right." But we knew that he had the clout and the potential, so we formed an LLC and signed on with him.
He instantly set up the first Ed Hardy store in L.A. He was connected with all the bling world and he got all that—the Hilton sisters and Madonna, everybody. I was just along for the ride; that's it. It was all just getting celebrities to wear it, word of mouth, busting this stuff out, and then the sub-licensees where they started putting the images on all this stuff. It was completely insane.
The entire brand was built on just a fraction of images that I did back in the early 1970s. A friend showed me a book of Japanese tattoos, and I started to realize this could really be developed into a powerful artistic medium. A professional tattooer tried to dissuade me. He said, "There's no future in this. It's a dying art." But I just thought it could be made into something. I started apprenticing and really learning the tools. People didn't really do custom tattoos at the time. It took a while to build up the business, and I loved it. It was a cash business, and you were your own boss.
This stuff is like my ancient history. It's just a part of what I do. And I mean, I dig the fact that it still gets a rise out of people, but I don't feel like it's been devalued or anything. I know what my art is about, and I know what I'm about and what I've done. We're not near the end of the story yet by any means because, you know, the brand is still going. —As told to Ashlee Vance
• Hardy is an American tattoo artist and entrepreneur. 
Before it's here, it's on the Bloomberg Terminal.
LEARN MORE