How to Eat Crow, by Chef Melissa Perfit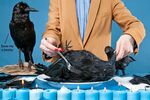 So you're just going to give me a crow? I'd probably slit its throat, hang it by its feet to get the blood out. Then chop off the head and feet, they're probably really poky and talony. I suppose you'd pluck it. You don't want to eat its feathers.
The meaty part of a crow is its breast meat. Butcher that, set it aside. We're going to use the other part of the bird for crow stock. Gotta use the whole animal. Put the crow bones and the wings on a sheet tray and roast them at 400 degrees until they get nice and brown and crispy. Put them in a pot, cover them with water. Add yellow onions with skins, celery, carrots, and thyme. You let that simmer for probably eight hours. Crow stock: done.
Season the crow breasts with salt and pepper, and sear them in a hot pan with canola oil. Just until they're browned, not cooked through. And by the way, crow breasts are tiny, so this would be quite a few crows that we're using, or else we'd have to make the smallest batch of gumbo ever. You'll need a whole murder of crows.
Separately, we're going to make a base for the gumbo. Heat canola oil and flour in a pan. Let's not overtake the taste of the crow with an over-dark roux, you want it to stir it until you get the color of peanut butter. Add in onions, peppers, and celery. A medium dice. This is the Cajun holy trinity, and we're cooking Cajun crow. I add jalapeños to mine, and a spice mix with cayenne, paprika, chili powder, and some other things I can't tell you.
Once the vegetables are nice and soft, we're going to add that delicious crow stock, let that kind of simmer, the flavors will come together. I add filé too, it's a sassafras-based thickener.
Then you add your crow boobies. Simmer that for an hour or so. As the gumbo cooks they're going to braise and fall apart, so they'll be shreddy and delicious. In my knowledge of crow breasts, that's what I envision. Best to let it sit overnight after cooking. And I think starting the day ahead would be the best bet for eating crow, anyway, since you need your stock.
Ladle it in a wide bowl on top of some rice. Top it with some parsley and hot sauce. I prefer Crystal to Tabasco, it's milder, more vinegary. Maybe some Worcestershire sauce.
The person you're apologizing to, you'd serve them some crow, too. You made a huge pot of it, why not share it? Might as well have everyone enjoy crow. There's no way you can serve it without a glass of Old Crow bourbon. And a toast; toast it with, "I'm sorry. I'm sorry you all are eating crow."
• Perfit is chef de cuisine at Hard Water, a restaurant on the San Francisco waterfront.
Before it's here, it's on the Bloomberg Terminal.
LEARN MORE