Silicon Valley Goes Hollywood: Top Coders Can Now Get Agents
Star programmers are signing with agents to command better pay
by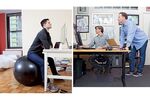 Max Nanis's website prominently features about two dozen head shots of the skinny, scruffy 22-year-old Southern Californian with his shirt off. At the top of his "About" page, there's a personalized contact number (936-CALL-MAX) and a link to 10X Management, his professional representation. It looks like the résumé of an actor, seemingly pitched for casting directors and producers—but Nanis's background is in computational biology. He's a coder, part of a generation of programming hotshots starting to view themselves more like Hollywood talent than bit jockeys.
Nanis has his agent at 10X Management working to find him the best freelance programming gigs. Launched about a year ago as a dedicated agency for software developers, 10X now represents more than 30 people, taking a 15 percent cut of its clients' earnings from each assignment. In exchange for that fee, 10X promises to help guide a programmer's career development, negotiate with employers for better compensation, and handle the mountain of associated paperwork. "We deal with the necessary evils of being a freelance coder so they don't have to," says Altay Guvench, one of the management firm's founders.
After graduating from Harvard in 2003, Guvench went to Silicon Valley and started a user-generated trivia website. When the site fizzled out a couple years later—"It was a side project that got out of hand," he says—Guvench became a freelance coder. The flexible lifestyle left him with time to pursue his other love, music. While he was hopping in and out of bands, Guvench ran into Rishon Blumberg and Michael Solomon, a pair of musician managers best known for guiding John Mayer from playing bars to packing stadiums. "Their job is to do the business bulls- - - for these artists," says Guvench. "So, in this weird experiment, I hired them to act as my agent for freelance programming."
The experiment worked: Blumberg and Solomon got Guvench consistent work that paid well. "Friends of mine started seeing I was happier," Guvench says. "They started asking how they could get in on it." With Blumberg and Solomon, Guvench—who gave up coding full time—started an agency in January 2012 dedicated to representing software engineers. While his two partners lead the negotiations with companies, Guvench looks for talented coders. He reviews code samples submitted by would-be 10X clients before they get a face-to-face interview with him or another partner. If they pass muster, the agency tries to match their skills to a particular company's needs. 10X wants to build a reputation for having A-list coders on speed dial so startups turn to the company for pickup programming whenever they need it. "We want to be the Rolls-Royce or Apple," says Guvench.
At first blush, 10X Management sounds a lot like a temp agency or a headhunting service. Both partners and clients say 10X representation is more than that. San Diego-based coder Nanis recalls Solomon spending a week negotiating with one company to secure top rates and more detailed terms about what he'd be expected to produce within a certain time. The process saved Nanis from having uncomfortable conversations. "I don't want to talk to a business manager, I want to talk to the technology team," he says. It's common for freelance coders in big cities to earn $75 to $125 per hour these days; 10X clients' hourly rates have been pushing as high as $300, enough that they're not looking for permanent jobs, Guvench says. "They have doubled and even tripled my rate sometimes," says Nanis.
10X also spreads work among its clients to ease the feast-or-famine side of freelancing. Clients credit it with building a host of tools that help them pick jobs. One program tracks payment rates for jobs and cross-references that data with the time taken to complete the assignments; another app fills in contracts and provides time sheets. And then there's coaching, as 10X tries to find what people like to do and where they want to take their careers. "They advise us on how to present ourselves online and just get really involved in the relationship," says Sam Kaufman, a freelance iOS developer.
While some hiring managers have been taken aback by the idea of dealing with an agent, there's a big need for strong programmers, and companies want people who can get things done. "It takes months to find a good, full-time hire," says Richard Price, chief executive officer at Academia.edu, which provides a marketplace for academic papers. "The 10X guys are like premium talent that you bring in in the meantime who are maniacally focused and bash things out."
Some people see coders with agents as another sign that Silicon Valley is overheated. Bert Nieves, a freelance coder for much of the last 15 years, remembers a few agents popping up in the 1990s. During the dot-com boom years, he says, "I would go to trade shows with my own rate negotiator," but that practice sputtered out during the subsequent collapse. Still, Nieves says the core idea has staying power. "My friends just want to code and hate all the negotiations," he says. "The need is there."
Before it's here, it's on the Bloomberg Terminal.
LEARN MORE