Captain Haddock Didn't Need a Helipad
By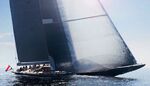 Anyone who's traveled down New York's West Side Highway in the past few weeks has seen Roman Abramovich's mega-yacht, The Eclipse, parked at Pier 92. While it has already been eclipsed by a 590-foot-long yacht as the world's largest, the oligarch's floating McMansion, at 557 feet, is a boat like Versailles is a house.
Then there is theShields-Class sailboat, elegant and low to the water, with an open cockpit and no bunks, for day races. You feel the spray of saltwater, get a workout and enjoy yourself. New Shields boats go for around $65,000, though you can buy aused one in good condition for around $25,000.
Somewhere between a Shields and the Abromovich behemoth is the J-Class boat . Originally used in the 1930s for America's Cup races, the first J-Class boat cost upwards of $1,000,000. Now they're popular again, a retro response to the mega-yachts, perhaps. At 100 feet long, with teak decks and mahogany interiors, they certainly make a statement. So does their price. A replica of the "Rainbow" J boat, with which Harold Vanderbilt won the 1934 America's Cup, is on sale for $20,250,000.
James Tarmy reports on arts and culture for Bloomberg Muse, the arts and leisure section of Bloomberg News.