Will J.C. Penney's Real Estate Be Its Savior?
by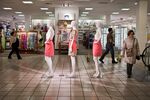 With Monday's very public ouster of J.C. Penney Chief Executive Ron Johnson, one would think nothing but dark clouds are ahead for the troubled company. Yet there's one area where its merchandising missteps haven't tarnished the venerable retailer's fortunes: its huge trove of real estate.
Most retailers like to trumpet their ability to pick successful fashion trends early or to engineer shopping experiences so exciting that shoppers are eager to flock to their stores. But when neither of those draws come through, merchants have often depended on the value of their real estate and long-term store leases to get through lean times.
Think of it as selling the family silver. And given J.C. Penney's 25 percent sales decline last year and a nearly 50 percent drop in its share price since April 2012, this would certainly qualify as one of those times when drastic measures are warranted.
One of J.C. Penney's most enticing assets is the large amount of low-cost real estate space it owns or controls via advantageous leases. Penney has an average cost of ownership for much of its real estate of less than $5 a square foot. An analysis last month by International Strategy & Investment Group said that much of the space inside malls around J.C. Penney stores was going for about $70 a square foot today. ISS said that if just the real estate that houses the top 300 J.C. Penney stores could be spun off into a separately traded real estate investment trust, that REIT would have an enterprise value of about $40 a share—more than six times its estimate of the share value of the remaining 800-store J.C. Penney retail chain.
Obviously mall owners aren't eager to allow J.C. Penney to parcel out its retail space to others at the same advantageous terms that the department store giant got. That's one reason why Johnson's emphasis on collections of branded departments within existing J.C. Penney stores made sense, both for J.C. Penney and for merchandise brands that covet more exposure within malls without committing to their own stores at today's rental rates. It also explains why the store-within-a-store concept won't likely be following Johnson out the door.
Before it's here, it's on the Bloomberg Terminal.
LEARN MORE