California Governor Clears Way for Carbon Market Link to Quebec
Lynn Doan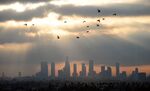 California Governor Jerry Brown approved a proposal to link the state's carbon cap-and-trade system with a program in Quebec, a step that would allow companies to trade carbon permits across borders.
Brown found that the request from the state Air Resources Board, which has been working with the Canadian province for more than five years to develop complementary systems, met all necessary state requirements, according to a letter posted on the governor's website late today. The air board is scheduled to consider changes to its cap-and-trade program April 19 that will allow it to link with Quebec.
California's air board, which developed a carbon-trading system after U.S. legislators failed to agree on a federal plan, has hailed the program as a blueprint for the rest of the world to follow. The link to Quebec, the first region that California has proposed to partner with, lays the groundwork for a broader system that other governments may join.
"We are pleased with the Governor's findings and will continue to work on all necessary additional steps to ensure California's efforts to link with Quebec are successful," Stanley Young, a spokesman for the air board in Sacramento, said by e-mail today.
The state legislature passed a bill in June that requires the air board to gain the governor's approval before linking cap-and-trade systems with other jurisdictions. Today was the deadline for Brown to decide on the agency's proposal.
Quebec Link
The air board's staff has said a link with Quebec would expand investments in low-carbon technologies, many of which are being developed in California, and improve market liquidity for carbon allowances by increasing the pool of both permits and companies trading them.
The reduction in greenhouse-gas emissions achieved by combining the two programs would also be larger than cuts through a California-only system, the board's staff said in a report last year.
Futures contracts based on California carbon allowances for 2013 were unchanged at $14.20 per metric ton today, according to data compiled by Chicago-based CME Group Inc.
A panel of economics and markets professors recommended in September that the air board delay a link with Quebec until the markets in both California and the province are "found to be well-functioning." That finding probably can't occur until at least 2015, the committee said in an analysis Sept. 20.
'Momentous Challenge'
The committee, which provides the air board with advice on cap-and-trade markets, described the linkage as "a momentous challenge," warning that differences between the governments' regulatory frameworks and compliance and market rules could lead to inefficiencies.
The benefits of a linkage may also prove "limited" for California because Quebec's economy is only about two-tenths the size of the state's and the bulk of the province's electricity is already generated from clean energy resources, such as hydro, the panel's report shows.
According to the governor's letter, the state won't link systems with Quebec until Jan. 1, 2014. The state air board and Quebec's Ministry of Environment will, in the meantime, test their auction platforms and trading systems to ensure they're "fully compatible," he said.
Under California's program, the state is capping carbon emissions from power generators, oil refineries and other industrial plants and cutting that limit gradually to reduce emissions to 1990 levels by 2020. The system will eventually regulate 85 percent of the greenhouse gases released in California.
Carbon Allowances
Quebec plans to reduce emissions to 20 percent below 1990 levels by 2020 with its cap-and-trade program, which applies to about 75 companies in the province.
Regulators in both jurisdictions are issuing carbon allowances, each permitting the release of 1 metric ton, through a combination of free allocations and auctions. Companies must turn in carbon permits to cover their emissions, and those with more allowances than they need, can sell or trade the excess.
In its most recent auction on Feb. 19, California sold out of allowances for 2013 at $13.62 per metric ton. Oil refiners Chevron Corp., BP Plc and Royal Dutch Shell Plc, as well as electric utilities Pacific Gas and Electric Co. and Southern California Edison, were among the companies that qualified to participate in the sale.
Brown asked the air board to file a report with his office by Nov. 1 outlining how the agency will review and take public comment on changes to a linked program.
Before it's here, it's on the Bloomberg Terminal.
LEARN MORE