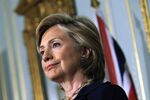 A little-known fact about Margaret Thatcher, who died today: Hillary Clinton modeled herself after the former British prime minister when she ran for the White House in 2008. In a private campaign memo written in late 2006 that was later leaked to me, Clinton's chief strategist, Mark Penn, said he believed voters view the president as the "father" of the country. But he also believed they would accept a female "father," provided she were tough enough. Penn told Clinton there was "a yearning for a kind of tough single parent—someone who can combine the toughness they are used to [from a male leader] with the negotiating adeptness they believe a woman would bring to the office."
Penn's Platonic ideal of such a female leader was Thatcher. "We are more Thatcher than anyone else," he wrote. Clinton, like Thatcher, he believed, was an "Iron Lady" and should present herself as such. Here's the relevant section from the memo on what Penn thought Hillary could learn from Thatcher: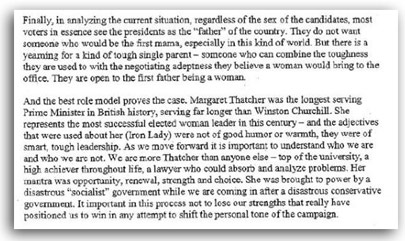 Before it's here, it's on the Bloomberg Terminal.
LEARN MORE