To Get Medicine to Africa, Health Experts Turn to Coca-Cola
by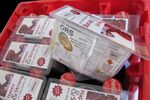 Running water, electricity, and paved roads are hard to find in the remotest parts of sub-Saharan Africa. A bottle of warm Coca-Cola, though? No sweat. This impressive reach isn't lost on public health advocates. They are looking to Coke's distribution network to bring cheap, life-saving medication to some of the world's most remote places.
Since September, more than 40,000 medicine kits designed to slip between Coke bottles stacked in a case have made the journey deep into the Zambian countryside. Called Kit Yamoyo, the packets were designed by London branding agency pi global for the U.K.-based health charity called ColaLife to fight one of sub-Saharan Africa's biggest child killers, diarrhea. The kits, priced at the equivalent of $1, carry vital antidiarrheal medicine—a blister pack of zinc pills, oral rehydration salts—in a container that doubles as a mixing vessel. (The kit also carries a thin bar of soap.)
"Instead of a mother having to travel three, sometimes four hours to a regional health center, she can now go to the community shop where they usually find Coca-Cola for sale," says Rohit Ramchandani, public health adviser and principal investigator for ColaLife. "Our model looks specifically at how we can partner with and leverage private sector distribution channels, these companies that are able to get their product out to that last mile in the most remote parts of the world." In the future, ColaLife plans to use the same container design to transport safe-birthing kits, mosquito nets, and nutrient supplements, Ramchandani says.
Pi global's product design—a heat-sealed, water-resistant, tamper-proof plastic kit that looks as if it could hold a wedge-shaped vending machine sandwich—allows 10 kits to be slipped inside a single crate of Coca-Cola. In this part of the world, it also represents the first all-in-one, single-dose antidiarrheal kit.
Coke's involvement in the project has been easier to measure in crates than in dollars. "We didn't ask Coca-Cola and their bottler SABMiller to fund the Zambia trial directly," says Jane Berry, ColaLife's business development director. "We wanted it to be independent—creating evidence and learning [that] people could trust. What we wanted was 'permission' to piggyback on their knowledge, brand, expertise, methods, and networks, which they have very generously given."
Before it's here, it's on the Bloomberg Terminal.
LEARN MORE