German Industrial Production Increased in February
Stefan Riecher and Jeff Black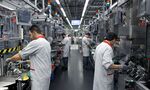 German industrial output rebounded in February, adding to signs that Europe's largest economy is stabilizing after a contraction in the fourth quarter.
Production rose 0.5 percent from January, when it contracted 0.6 percent, the Economy Ministry in Berlin said today. Economists forecast a 0.3 percent gain, according to the median of 41 estimates in a Bloomberg News survey. From a year earlier, production dropped 1.8 percent when adjusted for working days.
Germany's economy probably returned to growth in the first quarter after it shrank 0.6 percent in the final three months of 2012. Still, business sentiment in Germany dropped in March amid renewed concerns about the sovereign debt crisis and its impact on the 17-nation euro economy, which is struggling to emerge from recession.
"After a period of deflating in the second half of last year, German industry has stabilized again," said Carsten Brzeski, senior economist at ING Belgium SA in Brussels. "The stabilization, however, is not automatically followed by a sharp rebound of industrial activity. The harsh winter weather has not only affected the construction sector but industry as a whole."
Manufacturing output rose 0.5 percent in February, with production of investment goods up 2.4 percent, today's report showed. Energy production surged 3.9 percent while construction activity dropped 2.7 percent. January output was previously reported as unchanged.
Market Reaction
The euro was little changed after the report and traded at $1.3008 at 12:22 p.m. in Frankfurt, up 0.2 percent today. The yield on German 10-year government bonds advanced two basis points, or 0.02 percent, to 1.23 percent. Europe's benchmark Stoxx 600 index rose 0.4 percent to 288.30.
In Asia, Japan recorded its first current-account surplus in four months in February, while a measure of sentiment matched a record high in March as a falling yen, rising stocks and central-bank stimulus bolster the outlook for the world's third-biggest economy.
Back in Germany, the Economy Ministry said "industrial production remains subdued," even as manufacturing is supported by improving confidence indicators.
Factory orders rose more than twice as much as economists predicted and retail sales unexpectedly increased for a second month in February.
New Jobs
The VDMA machine makers' association said today the industry created 30,000 new jobs in 2012, when production grew 1.3 percent. It expects output to rise 2 percent this year.
German plant and machinery orders were unchanged in February from a year earlier as domestic demand compensated for a decline in Europe.
Schaeffler AG, the industrial-bearing maker that's the biggest investor in car-parts producer Continental AG, said demand elsewhere will more than make up for a drop in Europe to allow sales growth in 2013.
The Bundesbank predicts the German economy will expand 0.4 percent this year and 1.9 percent in 2014. That compares with a contraction of 0.5 percent this year and growth of 1 percent next in the euro area, according to European Central Bank projections.
"Weak economic activity has extended into the early part of the year and a gradual recovery is projected for the second half of this year, subject to downside risks," ECB President Mario Draghi said last week.
Germany's Air Berlin Plc, Europe's third-biggest discount carrier, said last month a recovery plan will take longer to execute because of high fuel prices and slow economic growth. The company will pare its fleet by 13 planes in 2013.
"If you look at France, Italy, Spain and the rest of Europe, there's no imminent sign of a pickup in activity," said Frederik Ducrozet, an economist at Credit Agricole SA in Paris. "Germany is in a very favorable position compared to its peers and the gap will widen in the coming months."
Before it's here, it's on the Bloomberg Terminal.
LEARN MORE