Moleskine's Hipster Cachet Works on Investors, Too
By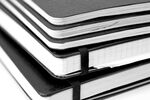 After a decent debut on public markets, Moleskine, the Milan-based maker of sleek and pricey little notebooks, is worth €483 million ($620 million).
Moleskine shares closed on Italian markets at €2.28, down slightly from the €2.30 price of its initial public offering.
With that, the hipster economy sinks deeper into mainstream markets. It's easy to imagine investors scrambling for stakes in other products popular with the fixie-bike set. Artisanal pickle shops popping up like Chipotles, circa 2008. The Mast Brothers chocolate wizards ringing the bell at Nasdaq. InBev ponying up a premium to buy PBR from Metropoulos.
Here's the thing: Moleskine is a swanky little business. At the moment, its value, on a relative basis, is comparable to, or better than, a number of luxury good makers that include Tiffany and Burberry.
In other words, it's not surprising that Syntegra Capital, Moleskine's private-equity owner, is holding onto a major stake.
What, in particular, do investors like about those little black books?
For one, Moleskine's brand is fairly bulletproof. It sells itself as the notebook of Ernest Hemingway and Vincent Van Gogh, and while that may not be strictly accurate, dead artists are in no position to argue. And paper and cardboard are still cheap, relative to fine leather or precious metals. Combine the two dynamics and you get a lush operating margin of 43 percent.
What's more, about one-sixth of Moleskine sales are in swag—lucrative deals that involve pasting corporate brands on products. And the company is dipping a toe into digital via cases and a special notebook that syncs with Evernote, a digital note-taking app.
Finally, Moleskine is cutting out the middleman and taking a cue from Apple's retail playbook. It is planning to open a number of proprietary outlets in the U.S. and Asia.
Hipsterpreneurs take note.