The Best and Worst Restaurants for Healthy Kids' Meals
By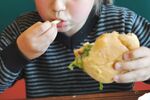 Apple slices do not a healthy kids' meal make, especially if they come with fried chicken and a soda. In an analysis of children's meals at 50 large chain restaurants, the Center for Science in the Public Interest found that 97 percent of the possible kids' meal combos failed to meet its nutrition standards for children's meals; 19 of those chains offer no kids' options that pass muster. The National Restaurant Association offers different standards for what makes a kids' meal "healthy"; by its guidelines, 91 percent of the options failed. Nine restaurants, including McDonald's, Carl's Jr., and Popeyes Louisiana Kitchen, had zero options that met either standard.
"We've seen an increase in healthier options on adult menus," says Margo Wootan, director of nutrition policy at CSPI and a nutritionist. "They get that Americans are more interested in nutrition than ever before; they just aren't making significant changes to the kids menu yet." Many meals come with soda or deep fried foods. The most common healthy kids' entree was grilled chicken, she says, so "if your kid doesn't like grilled chicken breast with apples, you're out of luck."
Subway, which already markets itself as a diet-friendly chain, emerged as the winner: All of its kids' meals met both CSPI and NRA standards. "Only apples, apple juice & low-fat milk, no soft drinks with children's meals," the report noted about the sandwich chain. Other chains that fared above average: IHOP, Red Lobster, Burger King, Arby's, Chick-fil-A, Denny's, Bob Evans, and LongHorn Steakhouse.
Healthy menu items have become vital to restaurants' bottom lines. A study from the Hudson Institute released in February found that demand for lower-calorie items at restaurants increased 2.5 percent from 2006 to 2011, as sales of traditional items like signature burgers fell 4.2 percent over the same period. "Having healthy options in general and for kids is very good for business," says Wootan.
Of the 50 chains, Olive Garden had the greatest number of possible kids' meal combinations, with a whopping 780, including different variations of pastas, sauces, toppings, and sides. About 1 percent of these, or 10 different meal combos—such as cheese ravioli with broccoli and orange juice—met CSPI standards. Olive Garden's parent company, Darden Restaurants, tells Businessweek.com in a statement that it is committed to "ensuring that our kids' menus provide healthy choices that appeal to both parents and their children."
Before it's here, it's on the Bloomberg Terminal.
LEARN MORE