After Michael Steinberg, Where Does the SAC Trail Lead?
By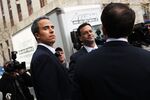 Michael Steinberg seems like a good father. The portfolio manager for SAC Capital's Sigma unit, who was charged with insider trading on March 29, was so concerned about being arrested in front of his two young children that he started staying in hotels several weeks ago in the hopes that he would be picked up there, according to a person familiar with the multi-agency investigation currently under way into illegal trading on Wall Street. Still, it's difficult to outsmart the government: Agents escorted Steinberg out of his $8 million Park Avenue apartment in handcuffs, on Good Friday, at the FBI witching hour of 6 a.m., right after he returned from a vacation with his family in Florida, where his wife and kids had stayed behind. Steinberg had hoped to turn himself in, according to the person familiar with the investigation, but the FBI stopped allowing defendants to do that because it seemed unfair to let wealthy Wall Street traders be brought into custody with dignity while others aren't afforded the opportunity. Later in the day, both the Securities and Exchange Commission and prosecutors for the Southern District of New York charged Steinberg with insider trading in two technology stocks, Dell and Nvidia, in 2008, 2009, and 2010.
The most pressing question now is what this means for SAC founder Steven Cohen, who has long been seen as the ultimate person of interest in the investigation. The charges against Steinberg, who has been on paid leave from SAC since his name first emerged in connection with the investigation in September, represent the deepest government prosecutors have reached into Cohen's hedge fund firm as part of their six-year campaign to root out illegal trading at the fund. The charges against Steinberg also increase pressure on Cohen himself, as there will now be incentive for Steinberg to cooperate with the government's investigation. Cohen has not been charged with any wrongdoing, and SAC issued a statement in support of Steinberg: "Mike has conducted himself professionally and ethically during his long tenure at the firm. We believe him to be a man of integrity."
Like Cohen, Steinberg, who is almost 41, grew up in Great Neck, N.Y. He graduated from the University of Wisconsin-Madison and worked for the Wall Street research firm Sanford C. Bernstein before joining SAC in 1997. Steinberg focused on trading technology stocks, and over 16 years at the firm he saw SAC transition from a small shop into a $15 billion powerhouse. He also came to be seen as one of Cohen's most trusted portfolio managers, someone who socialized and took vacations with the boss.
For this reason, Steinberg is considered highly valuable to investigators. So far, however, he is not cooperating with them. Steinberg pleaded not guilty and was released on $3 million bail. "Michael Steinberg did absolutely nothing wrong," says his lawyer, Barry Berke. "At all times, his trading decisions were based on detailed analysis as well as information that he understood had been properly obtained through the types of channels that institutional investors rely upon on a daily basis."
According to the government complaints, Steinberg was part of a chain of hedge fund analysts and traders who shared tips and information about technology stocks, including Dell and Nvidia, that often originated with insiders at the companies. Jon Horvath, a former SAC analyst who reported directly to Steinberg, pleaded guilty to insider trading charges in 2012 and has been cooperating with the government in its investigation. Horvath allegedly received advance information about Dell's earnings from Jesse Tortora, a former analyst at Diamondback Capital Management, which he passed on to Steinberg, who then traded Dell shares. (Tortora pleaded guilty in 2012 and has been cooperating with the government.) "Pls keep the DELL stuff especially on the down low … just mentioning that because JT (Jesse Tortora) asked me specifically to be extra sensitive with the info," read one e-mail from Horvath to Steinberg quoted in the complaint.
At one point, both Horvath and Steinberg passed along Dell intelligence to another SAC portfolio manager, according to the SEC complaint. Identified as "Portfolio Manager B," he is current SAC portfolio manager Gabriel Plotkin, according to a person familiar with the inquiry. "I have a 2nd hand read from someone at the company—this is 3rd quarter I have gotten this read from them and it has been very good in the last quarters," Horvath wrote in an e-mail to Plotkin on Aug. 26, 2008, according to the SEC documents. Twenty-four minutes later, Plotkin began selling Dell shares, ultimately shedding 600,000 of them by the time Dell released its earnings two days later, after which the stock dropped more than 13 percent. Plotkin's name surfaced during the 2012 insider trading trial of Anthony Chiasson, the co-founder of Level Global Investors, and Todd Newman, of Diamondback Capital. Plotkin has not been accused of any wrongdoing.
A native of Portland, Me., Plotkin graduated from Northwestern University with a degree in economics and worked at Citadel and North Sound Capital before joining SAC in 2006. At SAC he directs over $1 billion in investments, and focuses on consumer and tech stocks, according to his bio at an investment conference where he spoke in 2011. "While Gabe spends his days as a portfolio manager at Sigma Capital," reads a description on the website of the Chabad Israel Center, where Plotkin and his wife were given a Young Leadership Award in 2011, "as a family they enjoy petting zoos and sports," their son's favorite activities. In accordance with SAC policy, the firm doesn't make any information publicly available about its employees.
Before it's here, it's on the Bloomberg Terminal.
LEARN MORE