'Toxic' Satyam Stock Tops Asia Return on Equity: Corporate India
Kartikay Mehrotra and Sharang Limaye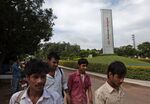 Satyam Computer Services Ltd., the subject of India's biggest corporate fraud, is luring investors including Nordea Bank AB and BNP Paribas SA with the highest return on equity among Asia's 20 largest software developers.
The gauge, which measures how well firms invest shareholder funds, was at 55.4 percent in the three months ended Dec. 31, according to data compiled by Bloomberg. That compares with 38.6 percent for Tata Consultancy Services Ltd., Asia's biggest software developer by value, and 3.2 percent at Japan's Fujitsu Ltd. Tech Mahindra Ltd. which acquired a stake in Satyam in 2009, last year said it plans to buy the remaining 57 percent.
Investors are betting the combination of the two companies will help Satyam complete its turnaround and attract larger clients. India auctioned Satyam in April 2009 after dismissing the board led by founder Chairman Ramalinga Raju who admitted to inflating the company's assets and understating debt by about $1.8 billion. Satyam and Tech Mahindra plan to double revenue of the merged company to $5 billion by 2015, Satyam Chief Executive Officer Chander Prakash Gurnani said Sept. 27.
"Since the scam, Satyam was considered a toxic stock, but now it's growing in relevance so people are piling on," said Hardik Shah, an analyst with Mumbai-based KR Choksey Shares & Securities Pvt. "They've done a good job of restoring their credibility and the impending merger should only make them more competitive."
Law Suits
BNP Paribas's asset management unit added 2 million Satyam shares according to a Jan. 31 filing, while Nordea Investment Management AB, unit of Scandinavia's biggest bank, bought 2.31 million shares as of Feb. 28.
Satyam's shares have risen 52 percent in the past year making them the second-best performer in the S&P BSE Infotech index. Satyam plunged 5.8 percent to 119.6 rupees in Mumbai, the biggest decline since Nov. 16, 2010. Tech Mahindra dropped 3.3 percent to 1,026.2 rupees.
Raju's disclosure in January 2009 triggered a stock plunge and investor lawsuits in the U.S. Raju was charged with faking invoices, falsifying accounts, inflating the company's tax liability and understating debt in the fraud.
The company has settled five of the cases, while two are pending, Apurva Shah, an analyst at Dalal & Broacha Stock Broking Pvt., said in a report dated March 11.
Investors have seen Satyam deal with the lawsuits, Hari Thalapalli, chief marketing officer at the company said in an interview yesterday. "They feel that we are better positioned to accelerate in our journey."
Sales Estimate
Satyam's sales may have risen to 77.3 billion rupees ($1.4 billion) in the year ended March 31, according to a median estimate of 28 analysts compiled by Bloomberg. That's the highest in four years. Profit may have been little changed at 12.98 billion rupees, data show.
Tech Mahindra, controlled by Mahindra & Mahindra Ltd., India's biggest maker of tractors and utility vehicles, will swap two of its shares for every 17 held by Satyam shareholders, the company said on March 21, 2012. The two companies had combined revenue of 103 billion rupees that year, according to data compiled by Bloomberg.
The merger is awaiting approval from the Andhra Pradesh High Court, which may come in the "next few weeks," Thalapalli said. The court ruling is dependent on a lawsuit filed by Raju's 37 group companies, Rishi Jhunjhunwala and Girish Ramkumar, analysts at Goldman Sachs Group Inc.'s Indian unit wrote in a report dated March 28. The brokerage has a buy recommendation for both Satyam and Tech Mahindra.
Intensifying competition amid Europe's credit crisis may keep the combined entity's profit margin depressed. Satyam reported earnings margin before interest, taxes, depreciation and amortization of 20.67 percent in the three months to Dec. 31, while the measure for Tata Consultancy was at 29.8 percent.
New Deals
"The competitive intensity in this business is pretty high and multinational corporations are furiously increasing offshore presence," said Harit Shah, an analyst with Nirmal Bang Institutional Equities. "It's much more difficult for them to post substantial growth rates beyond what they're already doing. This isn't 2007."
Satyam is trying to win contracts worth more than $50 million each to boost revenue and margins, according to Thalapalli. The company probably won as many as four deals valued at about $50 million in the year ended March 31, he said.
Raju's fraud prompted clients such as State Farm Automobile Insurance Co. to cancel contracts. The company lost as many as 46 customers after Raju's disclosure, the Economic Times newspaper reported in 2009. The company now has 234 clients, according to Dalal & Broacha's Shah.
"When we bring up the turbulence, some customers have no idea what we're talking about," said Thalapalli. "It really is history."
Before it's here, it's on the Bloomberg Terminal.
LEARN MORE