Hulu Board Gauging Interest in Video Site From Potential Buyers
Andy Fixmer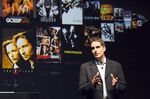 The board of Hulu LLC, operator of the online video-streaming service, has reached out to potential strategic buyers to gauge interest in acquiring the company, said two people with knowledge of the situation.
The board hasn't yet decided to sell Hulu or to pursue other options, said the people, who sought anonymity because the discussions are private. The owners called off an auction in October 2011.
Walt Disney Co. and News Corp., Hulu's controlling owners, have different visions for the company and are weighing whether one should buy out the other. They are also considering changing the business model or selling the company. Comcast Corp. also owns a stake. Reuters reported yesterday that the board had contacted possible buyers.
Guggenheim Partners LLC, owner of the Los Angeles Dodgers, Dick Clark Productions and the Hollywood Reporter, was approached by the board and expressed interest, said the people. Torie von Alt, a Guggenheim spokeswoman, declined to comment. AllThingsD.com reported on the investment company's interest yesterday.
Elisa Schreiber, a spokeswoman for Los Angeles-based Hulu, also declined to comment.
Comcast is barred from an operational or board role under an agreement with federal regulators related to its NBC Universal acquisition in January 2011.
The video site drew offers from Google Inc., Amazon.com Inc., Yahoo Inc. and Dish Network Corp. in the 2011 auction, people said at the time. Dish, which has started a Blockbuster-branded online streaming service, bid $1.9 billion.
Hulu's owners canceled the auction after concluding the strategic value outweighed the benefits of a sale.
Record Revenue
Hulu is poised to post record first-quarter revenue and subscriber additions, Jason Kilar, the departing chief executive officer, wrote March 14 on the company website. Andy Forssell, Hulu's senior vice president of content, will become acting CEO after Kilar leaves at the end of the month, according to the post.
Formed by NBC and Fox, Hulu offers viewers TV shows online with fewer commercials. Disney became an investor in April 2009. Hulu Plus, started in 2010, provides offers more shows for $8 month and includes access on mobile devices, Web-linked TV sets and video-game consoles.
Hulu said in December that 2012 revenue climbed 65 percent to about $695 million as paying subscribers more than doubled to 3 million. The company lags behind Netflix Inc.'s 33.3 million worldwide subscribers at year end and faces competition from Amazon.com Inc. and Redbox Instant from Verizon Communications Inc. and Coinstar Inc.
Before it's here, it's on the Bloomberg Terminal.
LEARN MORE