Cyprus Struggles to Meet Bailout Demand as Deadline Looms
Tom Stoukas and Ben Sills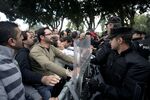 European and Cypriot officials were locked in talks to find a formula to avert the Mediterranean island's financial collapse, struggling to forge consensus on a bailout package before the European Central Bank cuts funding.
Cyprus's options narrowed today after Russia spurned a bid for a loan and German lawmakers dismissed the Cypriot government's latest rescue proposals. That left the troika of international creditors to hammer out fresh terms with President Nicos Anastasiades's coalition focusing on the fate of Cyprus's ailing banks.
"We believe that in the next few hours we could be able, with a lot of difficulties, to reach a framework that will be within the policies of the EU, European Central Bank and IMF," Averof Neofytou, deputy president of Cyprus's ruling Disy party, told reporters in Nicosia, referring to the troika of creditors. "We are trying hard. I believe we may have a result today."
European patience with Cyprus is running out after the country's parliament rejected an initial plan to tax bank deposits agreed on last weekend by euro finance ministers. The same finance chiefs are now considering a plan to close Cyprus's two biggest banks and freeze the assets of uninsured depositors, four European officials said yesterday. Deposit levies could still form part of a final deal, Cypriot officials say.
The ECB has said it will cut off emergency funding to Cypriot banks at the end of Monday, March 25 unless there is a deal.
Euro Rises
The euro, which posted its biggest two-day drop since July at the start of the week, rose 0.7 percent to $1.29787. While the Stoxx Europe 600 Index fell for the first week in a month on the back of Cypriot turmoil, the index was little changed today as investors anticipated a compromise, slipping 0.2 percent.
Cyprus needs to come up with 5.8 billion euros ($7.5 billion) to free up a 10 billion-euro bailout from the International Monetary Fund and the euro-area's rescue mechanism.
The Cypriot central bank proposed a bill late yesterday to overhaul the banking system that would allow Cyprus Popular Bank Pcl, the country's second-largest lender, to avoid a "catastrophic" bankruptcy and protect insured deposits up to 100,000 euros. Cyprus would need to raise 3.5 billion euros rather than the original 5.8 billion euros if the banking bill is passed, Neofytou said yesterday.
'Not Viable'
The government also submitted a draft law to create an "investment solidarity fund" intended to help raise the money needed to trigger loans, state-run CYBC television reported.
Euro-area finance chiefs still insist that Cyprus comes up with 5.8 billion euros, and that it undertakes "substantial changes" to its financial industry burdened by "four big Cypriot banks that are not viable," Luxembourg Finance Minister Luc Frieden said on German RBB-InfoRadio today.
"I see little wiggle room with some European countries, also financially, to make more concessions toward Cyprus," he said. "Time is slipping away," said Frieden. "Banks will open again in Cyprus on Tuesday and a solution is absolutely necessary, because this is not just about Cyprus, it also concerns Germany, Luxembourg and the stability of the euro zone. We need a credible plan."
Cyprus Popular
Cyprus in June became the fifth euro-area nation to request a rescue. The move came after Greece's debt restructuring, the largest in history, trashed the financial health of lenders including Bank of Cyprus Plc and Cyprus Popular Bank.
Cyprus Popular, founded in 1901 as a small savings bank, operates in Cyprus, Greece, the U.K., Ukraine, Russia, Romania, Serbia, Malta and China through 439 branches, servicing 1.35 million customers, according to information on its website.
The bank, which employs about 8,500 people, posted a net loss of 1.56 billion euros for the first nine months of 2012, after a net loss of 3.65 billion euros in 2011 following writedowns on Greek government bond holdings, goodwill related to its Greek business and making provisions for loan losses.
Cyprus's total bank assets swelled to 126.4 billion euros at the end of January, seven times the size of the 18 billion euro economy, from 78 billion euros in 2007, data from the European Central Bank and the EU's statistics office show. Russian companies and individuals have an estimated $31 billion of wealth in Cyprus, according to Moody's.
Bank Split
Under one plan pushed by euro finance chiefs, Cyprus Popular Bank Pcl and the Bank of Cyprus Plc would be split to create a so-called bad bank. Insured deposits -- below the European Union ceiling of 100,000 euros -- would go into a so-called good bank and not sustain any losses, while uninsured deposits would go into the bad bank and be frozen until assets could be sold, four euro region officials said.
At 17 billion euros, Cyprus's financial needs are almost equivalent to the country's entire economic output, a magnitude of bailout that has never been awarded before, Merkel told reporters on March 20. That means "the bank sector must contribute to the sustainability of Cypriot debt," she said.
Cypriot Finance Minister Michael Sarris, who met the same day in Moscow with Russian First Deputy Minister Igor Shuvalov and Finance Minister Anton Siluanov, said today that Russia would offer no additional support beyond restructuring a 2.5 billion-euro loan granted in 2011.
Merkel told a closed-door meeting of legislators in Berlin today that Cyprus's decision to test Europe is unacceptable, and that it must now act quickly, a party official said.
Cyprus is living "in an illusion," Michael Meister, deputy parliamentary leader of Merkel's CDU, told BBC Radio 4's "Today" program. "They have to restructure the whole economy, restructure the banking sector and until now I don't see the Cyprus people and politicians agreeing on this."
Before it's here, it's on the Bloomberg Terminal.
LEARN MORE