'The Bachelor' Sees a Revival. Blame Twitter
What's behind the long-running reality show's newfound popularity?
By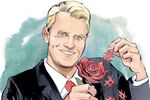 The Bachelor's season finale on March 12 ended in typical over-the-top schmaltz. A tall and wooden man named Sean proposed to a lady with nicely defined triceps and gleaming white teeth. "You never cease to amaze me," Sean, a born-again virgin, said to his future bride. Then the couple rode off into the sunset on an elephant. Everyone cried, although the elephant may just have had something in its eye.
The Bachelor has been trafficking in the same romantic clichés and sparkly evening wear since its 2002 debut on ABC. Yet after 17 seasons (and eight seasons for its spinoff, The Bachelorette), the show is experiencing an improbable late-life renaissance. A total of 10 million viewers watched the finale, up 8 percent from the previous year. The ratings for the entire season are up 3 percent, to 8.8 million viewers, and up 7 percent in the coveted 18-to-49-year-old demographic. A New York Times article pointed to renewed cultural interest in the series, and a subsequent ratings uptick, in 2009, after contestant Jason Mesnick picked one girl and then—JK! LOL!—ditched her and went with the runner-up on live TV. While that was surely riveting television, it doesn't fully explain the resurgence.
What really happened is that the producers got lucky. The Bachelor, which premiered four years before Twitter launched, has become the most social media-friendly program on air. ABC reported there were 248,782 tweets during the prefinale episode, making it the top TV show on Twitter that night. There's something about The Bachelor's combination of earnestness and absurdity that's especially conducive to the Internet, a landscape of wannabe comedians, tweens, stay-at-home moms, and creeps who like #boobs. For eye-rollers, simply tweeting out a gag-worthy quote from the show reads as a hilarious quip. For kinder souls, encouraging comments about the growing relationships are also popular. Witness these two sample tweets from finale night:
@MarleyLilly: Y'all. I'm crying that was so sweet. #Bachelornation
@edhyndman: Can you imagine this show if they outlawed hyperbole? Could they even have dialogue? #Bachelor #BestEVER
If all your friends are tweeting about the rose ceremony, you're more likely to switch on the show and weigh in on the drama. Some women (The Bachelor's viewers are 74 percent female) live-tweet every episode and have developed large Twitter followings for their clever commentary. Former Bachelor and Bachelorette contestants tweet along with new shows and get retweeted hundreds of times. This year, ABC started featuring viewers' tweets on the live "After the Final Rose Ceremony" episode. "The [Bachelor] audience is vocal, intensely opinionated, and generally made up of a demographic that we find to be very tech-savvy. … It's the perfect vehicle for us to roll out our new ABC Network-based social integration capabilities," Tim Bock, vice president of production, alternative series, and specials, recently said.
For years, TV networks have been trying to figure out how to harness the power of social media for ratings, some more successfully than others. Every series has a strategy in place—AMC's The Walking Dead has a social game on Facebook; CBS's The Big Bang Theory has a platform that allows viewers to check in as they watch live; NBC's Dateline asks viewers to tweet out pictures of themselves watching the show, with the hashtag #datelinetime. (The photo gallery on NBC.com should be avoided at all costs.) The Bachelor doesn't need an extra gimmick: This season featured a one-armed woman who got kicked off after she lost a canoe race, a grown man sobbing about love while standing in a swamp, and a newly engaged couple riding on an elephant, for God's sake. And when Sean and his fiancée inevitably break up, and the Internet alights again, ABC executives will be smiling in the hot tubs of their personal Bachelor mansions. #ohsnap #bachelor.