In Europe, Google's News Snippets May Get More Expensive
Google fails to reach détente on news indexing in Europe
Robert Levine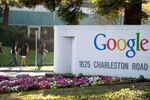 The future prosperity of Google and other online aggregators in Europe might depend on how German courts define snippets, the one or two sentences taken from websites and displayed alongside links to the source material. A landmark copyright bill that would allow publishers to charge for such online uses of their material is working its way through Germany's legislature and being closely watched by neighboring countries. Although it's been watered down during its legislative journey, the bill may still leave room for a judge to side with publishers and allow them to charge for significant use of news articles, including in search.
The legislation, part of Chancellor Angela Merkel's coalition platform, pits Google against media conglomerates, including Axel Springer, publisher of Die Welt and Bild, and Hubert Burda Media, which specializes in fashion and lifestyle magazines. It's seen by both Google and European media companies as a vital front in the search giant's battle with European newspapers. The bill could allow publishers to form a royalty collection group for newspaper snippets—imagine the American Society of Composers, Authors & Publishers, but for journalism—and gain leverage with Google, which has more than 85 percent of the search market in Germany, according to most estimates.
Google notched an important victory days before the bill passed out of the German lower house on March 1, winning an exemption for "individual words or the smallest excerpts of text." "Although the law creates some uncertainty," says Ralf Bremer, a Google spokesman in Germany, "we believe it makes clear that regular snippets remain legal." Axel Springer public affairs head Christoph Keese says aggregators will still need permission to use text beyond headlines, and should the issue go to court, "we feel comfortable with what the legislative intent established."
Until now, Google has managed to head off legislation by cutting deals with publishers in Continental Europe, where it doesn't have the wider latitude offered by U.S. fair use doctrine. Without admitting liability, the company in December settled a copyright infringement suit with Belgian newspapers for about €5 million ($6.5 million) worth of ad inventory. In February, Google defused French President François Hollande's threat to pass a compensation law by agreeing to spend €60 million to help French publishers develop their online businesses. A law like the one being debated in Germany could tip the balance of power more decisively, publishers say. "Assuming the law goes through and a large territory like Germany opens negotiations with content aggregators to license news, it's likely to inspire other countries to do the same," says Angela Mills Wade, executive director of the European Publishers Council.
The German bill hasn't yet cleared the legislature's upper chamber, which is controlled by an opposition coalition. So far, Google's attempts to kill it have included taking its case directly to the public with a "Defend Your Net" campaign that encouraged users to lobby their lawmakers, much as it did in the U.S. to protest the failed Stop Online Piracy Act. (Such campaigns are rare in Europe, and the German weekly Spiegel suggested that the company was "trying to crowdsource its own lobbying efforts.") The company also ran ads in Berlin taxis quoting a German blogger who suggested that the law made as much sense as restaurants charging taxi drivers for bringing in patrons. Of course, Google not only steers readers to newspapers, it also competes directly against them for online advertising.
As Google points out, it generates substantial Web traffic for newspapers, which can opt out of its indexes with a bit of code. The search giant's broader efforts to frame the copyright bill as a war on Web freedom overstate the case, though, says Ole Jani, a lawyer who has advised German politicians on copyright but didn't work on this issue. "It has been overrated by people who are against it," Jani says of the bill's fallout for search and aggregation. "But those who are for it must also acknowledge that publishers still need to create business solutions to the problems of the digital world."
BOTTOM LINE -
The bottom line: Google has agreed to pay more than $80 million to European publishers since December. It's fighting a law that could increase those costs.
Before it's here, it's on the Bloomberg Terminal.
LEARN MORE