From Japan's Weak Yen, Toyota Gains Strong Advantage
Japan's weak currency gives it another edge over U.S. carmakers
by and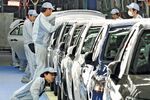 Thanks to an obsessive emphasis on quality, Toyota Motor grew from a tiny spinoff of a Japanese loom manufacturer in the 1930s into the world's largest automaker. Chief Executive Officer Akio Toyoda has nothing more virtuous than Japan's weakening currency for a recent assist in his quest for even greater market-share dominance. The yen has fallen 16 percent against the dollar since Oct. 31. That gives Toyota and other Japanese carmakers a financial gain on every car, which they can use to cut prices, boost advertising, or improve their vehicles in ways not open to U.S. rivals.
Morgan Stanley estimates the currency boost to operating profits at about $1,500 per car, while Detroit carmakers put the figure closer to $5,700. "We're concerned about what the long-term ramifications are," says Joe Hinrichs, Ford Motor's Americas chief. Sergio Marchionne, CEO of Chrysler Group and Fiat, also frets about the impact. "We didn't need this, to put it bluntly," he told Bloomberg TV on March 5. "It's going to make life tougher."
Toyota in February raised its profit forecast by 10 percent for the fiscal year ending March 31 to 860 billion yen ($9 billion), a five-year high. That would more than double the previous year's profit and signal a convincing comeback from the global recalls and 2011 Japanese earthquake that shook Toyota's standing as a leader in earnings, sales, and quality.
Detroit automakers are watchful for a replay of the 1990s and 2000s, when a weak yen allowed Japanese automakers to offer American buyers cars loaded with extra features at prices U.S. companies couldn't match. It took government-backed bankruptcies at General Motors and Chrysler in 2009 and a wrenching restructuring at Ford to get their costs in line with Toyota's. Those gains are being eroded by the currency shift, says Morgan Stanley auto analyst Adam Jonas. "This is, without a doubt, the biggest change affecting the global auto industry," Jonas says. "The dollar versus the weak yen will make the Japanese automakers richer, and they can use those profits to target more aggressive growth. Ford and GM are in their bull's-eye. This is a real threat."
Toyota enjoys a special edge because it exports more than 2 million vehicles from Japan annually, according to a recent analysis by Deutsche Bank. About 27 percent of the models Toyota sells in the U.S. are imported, compared with 10 percent of those sold by Honda Motor, Deutsche Bank says. "We see Toyota as having the most to gain from a weaker yen with improved profits on exports," write Deutsche Bank analysts Jochen Gehrke and Kurt Sanger. They see Toyota's net profit margin topping 6 percent next year, up from 1.5 percent in the year ended March 31, 2012.
Just as Toyota was cautious of not trumpeting its toppling of GM from the global No. 1 automaker title last year—a sensitive issue in the U.S.—it's been similarly restrained about any benefits from the weak yen. Toyota spokesman Steve Curtis says the automaker is working to build more models in North America, which would reduce the impact of currency swings. "Our MO as a company is to do our best to reduce currency fluctuations by localizing" production, Curtis says. "Whether it's a greenfield plant that came online a year and a half ago in Mississippi or the expansion of our component plants or the expansion of capacity for Highlander [built in Princeton, Ind.], across the operations in North America, that's the way we've approached this."
Yet even Toyota's North American production benefits from a weak yen, according to Deutsche Bank. Citing data from the National Highway Traffic Safety Administration, Deutsche Bank says 15 percent to 35 percent of the parts in Toyota's North American-built models actually come from Japan, providing another advantage U.S. makers don't have.
Morgan Stanley's Jonas says Toyota typically doesn't discount as deeply as Detroit automakers, so rather than waging a price war, Toyota may use its yen-effect benefits elsewhere. The carmaker is replacing 60 percent of its lineup by 2014 and now can afford to appoint those models with more lavish interiors and high-tech features that would be costly for U.S. carmakers to match, Jonas says. The result: "We could see the Japanese gaining a couple points of [market] share in the U.S.," he says.
Before it's here, it's on the Bloomberg Terminal.
LEARN MORE