For Electronic Arts, Are Console Games a Dead Space?
The No. 2 video game maker's CEO departs as consoles stagnate
by and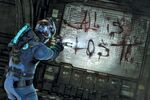 Last month, Electronic Arts, the nation's second-largest video game manufacturer, released another installment of its hit series Dead Space. It's the story of Isaac Clarke and John Carver, an adventurous duo who must repair their damaged spacecraft, escape from a devastated planet, and return to earth without being devoured by the ghoulish Necromorphs. The company promised that Dead Space fans would be treated to "pulse-pounding" moments while they played.
Electronic Arts has been providing its investors with thrills of their own. On March 18 the company announced that John Riccitiello will step down as chief executive officer and leave its board at the end of March, with Chairman and former CEO Larry Probst running things while the board searches for a replacement. Sales have fallen in three of the past four quarters, according to data compiled by Bloomberg. The company said in announcing Riccitiello's departure that fourth-quarter results may miss its earlier forecast. "My decision to leave EA is really all about my accountability for the shortcomings in our financial results this year," Riccitiello said in a blog post.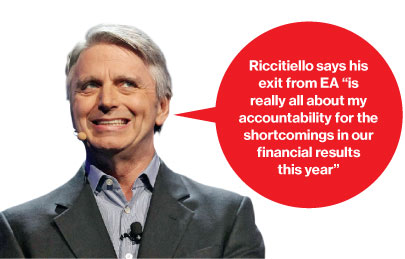 Riccitiello, a former Sara Lee executive, has been at the helm since 2007. He compiled a mixed record, nurturing some winning franchises such as the soccer series FIFA but flubbing other flagship titles, including the latest version of EA's popular SimCity franchise. The new city-building game was the first in the series to require a constant connection with EA's servers, which were quickly overwhelmed after its March 5 launch. Riccitiello "lasted a pretty long time, given that the company hasn't really performed that well," says Edward Woo, an analyst at Ascendiant Capital Markets. "There were times when you wondered why he was still there."
Part of EA's problem is secular: All console video games are struggling. According to the most recent figures from market research firm NPD, February's retail video game sales dropped 27 percent from a year earlier. "Every platform saw declines," BMO Capital Markets analyst Edward Williams wrote in a March 15 report parsing the NPD data. Sales of games for Microsoft's Xbox 360 dipped by 15 percent, while Sony's PlayStation 3 saw game sales fall 24 percent, and Nintendo's Wii and Wii U games toppled 43 percent. One reason for the dismal numbers is that the hardware has grown stale. Sony's PlayStation 4 is scheduled for release before this year's holiday season, which would likely lift game sales, especially if it nudges Microsoft to unveil a new Xbox. Woo says a new generation of console systems will help EA, with its library of dominant sports titles, more than most gamemakers.
That won't help EA with the migration of consumers to Internet-based and mobile games. "Over the past three, four years, Electronic Arts has suffered more than its share of disruption from the ever-changing video game market," Colin Sebastian, an analyst with William Baird, wrote in a research note. Riccitiello spent $750 million to buy pay-to-play Facebook game maker PopCap just as consumers shifted away to free and mobile games.
Michael Pachter, an analyst with Wedbush Securities in Los Angeles, says the outgoing CEO's more recent streamlining moves have left EA in better shape than it appears. In 2009, Riccitiello agreed to pay $300 million to acquire British company Playfish, maker of free games such as Restaurant City. He closed expensive game-design studios, reduced the number of titles produced each year to about a dozen from more than 60, and fired several thousand workers. "It's disappointing he didn't get the ball past the goal line," says Pachter, adding that the new CEO will likely keep cutting console game costs and reposition the company.
In a press release introducing Dead Space 3, EA teased the layers of problems players face: Even if John and Isaac elude the Necromorphs, "insanity takes hold and the two survivors realize they can no longer trust each other." Sounds a little like the video game business
Before it's here, it's on the Bloomberg Terminal.
LEARN MORE