For Electronic Arts, Are Console Games a Dead Space?
The No. 2 video game maker's CEO departs as consoles stagnate
By and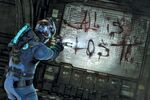 Last month, Electronic Arts, the nation's second-largest video game manufacturer, released another installment of its hit series Dead Space. It's the story of Isaac Clarke and John Carver, an adventurous duo who must repair their damaged spacecraft, escape from a devastated planet, and return to earth without being devoured by the ghoulish Necromorphs. The company promised that Dead Space fans would be treated to "pulse-pounding" moments while they played.