To Ease the Skills Shortage, Bring Back the Vocational High School
Harold L. Sirkin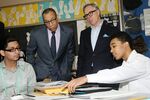 There was a time, as readers of a certain age will recall, when students who didn't have the interest in, or aptitude for, college could learn a useful trade in high school.
Most big cities devoted significant resources to preparing students for the world of work.
Boston, for example, whose legendary Boston Latin School, founded in 1635, includes Samuel Adams, John Hancock, Leonard Bernstein and George Santayana among its alumni, also had a network of vocational high schools. Mechanic Arts High School was established in 1893 and later become known as Boston Technical High School, or Tech. There was also a Boston Trade High School and Trade High School for Girls.
These schools are all gone now. The last to go was Tech, which was merged with another technical high school in 1989 and renamed the John D. O'Bryant School of Mathematics & Science. Today the city of 625,000 has just one vocational secondary school: Madison Park Technical Vocational High School.
Similar changes have been taking place all over the country—despite the growing need for skilled workers.
Seeking to become a manufacturing magnet, North Carolina recently took an important step to reverse this course.
Several weeks ago, in mid-February, state lawmakers approved legislation that will give a big boost to vocational education, putting it, as Travis Fain, of the Greensboro News & Record, explained, "on more equal footing" with college prep courses. The Tarheel State's new governor, former Charlotte Mayor Pat McCrory, immediately signed the measure.
Starting with the 2014-15 school year, North Carolina high school students will have two paths toward graduation: They can prepare for college, or they can prepare for work. When they graduate they will receive a new type of diploma, certifying that they are college-ready, career-ready, or both. In the meantime, state education officials will revamp the curriculum to reflect the dual mission.
This is not a slap at higher ed. As the Daily Tar Heel, the student-run newspaper at the University of North Carolina, Chapel Hill, commented: The bill, in effect, "provides greater opportunity for those who may be better off not going to college."
For the past several decades, vocational training has been the poor stepchild of public education. As a matter of policy, the priority has been to push everyone toward college.
While 88 percent of public high schools still offer Career & Technical Education (CTE) courses, according to Nafsa, the Association of International Educators, the number of students receiving certification as job-ready has been declining.
In 1990, for example, some 41 percent of U.S. high-school students had earned at least two CTE credits on graduation. By 2009, this had declined to 36 percent, according to the National Center for Education Statistics. The percentage of students with a higher level of skills—those with three CTE credits—fell from 24 percent to 19 percent over the same period.
In the European Union, meanwhile, approximately 45 percent of all "upper secondary" students (15 and 16-year-olds) are enrolled full time in vocational education.
Let's hope North Carolina's initiative is the start of a trend.
College isn't for everyone—but work is, or should be. Graduating students who are career-ready, as many more schools did in the past, will not only help the students; it will help our country.
Before it's here, it's on the Bloomberg Terminal.
LEARN MORE