Notre Dame's Mendoza Takes No. 1 Ranking, Again
Geoff Gloeckler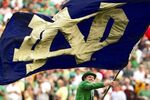 Notre Dame's Mendoza College of Business retained the top spot in Bloomberg Businessweek's Best Undergraduate Business Schools ranking for the fourth year in a row, followed by the University of Virginia's McIntire School of Commerce in second place and Cornell's Dyson School of Applied Economics and Management in third.
Mendoza ranks first in student satisfaction and fifth in employer satisfaction—the two main ranking criteria— and students laud the school's well-rounded business curriculum, strong liberal arts bent, and focus on ethics. "Academically, Mendoza is not all that different from other upper-tier business schools," says Rob Nelson, a senior business student at Notre Dame. "But our Catholic tradition puts extra emphasis on ethics and the idea that business should be used to generate more than just profits."
At McIntire, a strong performance on the job front kept the school at the top of the rankings for the fourth consecutive year. Nine out of 10 members of the Class of 2013 had at least one business internship, and 97 percent of students from last year's graduating class had a job three months after graduation. Top employers of McIntire students include Ernst & Young, PricewaterhouseCoopers, and KPMG. Dyson holds firm in the third spot thanks to a second place finish in both student satisfaction and the MBA feeder rank, a measure of how many graduates ultimately enroll in top-ranked MBA programs.
Below the top three, there has been a good deal of reshuffling in the ranks.
Washington University's Olin Business School jumped four spots to fourth overall, thanks to a strong showing in student satisfaction (sixth overall, up from No. 16 last year). Olin boasts the highest average SAT scores of any school in the ranking (1492), and received top marks from students in both teaching and academic services. Because of Olin's rise, the University of Pennsylvania's Wharton School fell one spot, to fifth overall. Wharton grads boast the highest median starting salary after graduation ($70,000), tied with MIT's Sloan School of Management and Carnegie Mellon's Tepper School of Business.
The University of Texas, Austin's McCombs School of Business ranked higher than 10 for the first time since 2006, up eight spots to the ninth position, thanks to a fourth-place showing in employer satisfaction—up seven spots from 2012.
To rank the programs, Bloomberg Businessweek uses nine data points, including a survey of senior business majors that measures their satisfaction in such areas as teaching, academic services, and career support; a survey of employers to gauge which schools produce the highest quality of graduates; and a calculation of academic quality, which combines SAT scores, student-faculty ratios, class size in core business courses, the percentage of students with internships, and the time devoted to class work. The MBA feeder school measure that looks at how many graduates ultimately enroll in top-ranked MBA programs was also included, as well as median starting salaries for graduates, which averaged $50,650, up four percent compared to last year. The student survey score counts for 30 percent of the final ranking and the employer survey score contributes 20 percent. Starting salaries and the MBA feeder school measure contribute 10 percent each. The academic quality measure supplies the remaining 30 percent.
This year, 145 undergraduate business programs participated in the ranking, three more than last year. Twenty-one were eliminated because of insufficient response rates in the student survey, employer survey, or both. Two schools that have traditionally ranked highly—Rensselaer Polytechnic Institute and the University of Maryland—failed to meet the minimum response rate to be included this year. In total, 27,561 students and 218 employers responded to our surveys this year, for response rates of 32 percent and 42 percent, respectively.
Many of the big score swings reflect survey responses from recruiters.
We ask the employers that hire the most undergraduate business majors to tell us which schools their company has relationships with and which schools produce the highest-quality grads, in their opinion. The employers that are surveyed are submitted to Bloomberg Businessweek by the schools themselves; depending on which company names are submitted and which ultimately respond to the survey, there could be a large difference in a particular school's raw employer score for a given year.
To standardize the employer scores, we use three years of ranking data, giving the greatest value to the current year's responses. Rankings for schools such as Purdue University's Krannert School of Management fell because the new 2013 raw employer score was much lower than the 2010 score it replaced. (Krannert dropped 15 spots in the employer ranking.) The Isenberg School of Management at the University of Massachusetts, Amherst, on the other hand, replaced a low 2010 employer score with a much higher one this year, pushing its employer rank up 16 spots, to 23rd.
A notable absence near the top of the ranking is MIT Sloan, which fell 13 spots to 19th overall, marking the first time Sloan has been outside of the top 10 since the ranking was launched in 2006. The  drop is mostly due to the employer survey, in which Sloan ranks 80th. Seventeen of the surveyed employers mentioned having a recruiting relationship with MIT. The average for all ranked schools was 18.
Sloan's size puts it at a disadvantage in the employer rankings. At most schools, business is among the most popular majors. At Texas's McCombs School, for instance, 4,093 business students account for about 10 percent of all undergraduates. Not so at MIT. Sloan boasts only 123 undergraduate business majors—the fewest number of any school in the ranking—accounting for just over two percent of its undergraduate student body. For a potential employer looking specifically to hire a large number of business majors, this isn't enough students to make a campus visit worthwhile. "It's an issue of critical mass," says Melanie Parker, executive director of the Career Development Center at MIT. "Without that critical mass, some of the companies that would recruit a large bulk of management students aren't going to think about coming here."
One school that doesn't have the critical mass issue is Ohio State University's Fisher College of Business, which shot up 34 spots in the ranking to 34th overall, the sharpest increase in this year's ranking. Because Fisher is so big—more than 2,000 business students graduate annually—employers have a large pool of potential hires to choose among. The university's on-campus recruiting program attracts 500 companies to campus throughout the academic year and two job fairs specifically for Fisher students each attract an additional 150, according to Jeff Rice, executive director of the Office of Career Management at Fisher. The school hasn't stopped there: On March 19, Fisher's National Center for the Middle Market and GE Capital teamed up to offer the second-annual middle market career fair. The fair, targeted at students looking for jobs and internships at a middle market firm, attracted companies like Quikrete and Stanley Electric U.S.
Loyola Marymount's College of Business Administration also saw a big jump upward—28 spots, to 65th overall—due mostly to a sharp rise in academic quality, resulting in part from an improved student-faculty ratio and SAT scores.
Among the schools that dropped most was Case Western University's Weatherhead School of Management, which fell 33 spots because it declined in both the employer and student portions of the ranking. Students gave Weatherhead low grades in facilities and services, as well as job placement, and some complained about a lack of regional diversity among the companies recruiting on campus. To address some of these concerns, the school is taking steps to broaden employment opportunities for students, says Jim Hurley, assistant dean at Weatherhead. To get students exposure to companies outside of Ohio, the university recently joined a consortium of schools participating in career fairs on the east and west coasts. The fairs took place in the beginning of January in Boston, New York, Washington, and Los Angeles, with companies such as Liberty Mutual, UBS, and NBC Universal in attendance.
The University of Akron's College of Business Administration also suffered a drop in its employer ranking, with four fewer companies mentioning the school as a recruiting target this year. Additionally, only 56 percent of surveyed students reported having internship experience, 14 percent fewer than the overall average. Together, this caused the school to fall 23 spots, to 108th place.
Akron Dean Ravi Krovi is aware of the issues facing his school. In response he has made top priorities of employer outreach and increasing job placement. "We're constantly talking about the importance of jobs and internships now," Krovi says. "Most students are afraid to see me because the first question out of my mouth is: 'Do you have an internship?'"
Join the discussion on the Bloomberg Businessweek Business School Forum, visit us on Facebook, and follow @BWbschools on Twitter.
Before it's here, it's on the Bloomberg Terminal.
LEARN MORE