Turmoil at Electronic Arts as CEO John Riccitiello Resigns
Can Successor Boost Game Sales?
By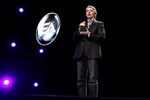 Earlier this month, Electronic Arts, the nation's second-largest video-game manufacturer, released a hit title called Dead Space 3. It's the story of Isaac and John Carver, an adventurous pair that must escape from a devastated planet known as Tau Volantis, repair their damaged spacecraft, and return to earth without being devoured by the ghoulish Necromorphs. The company promised that Dead Space fans would be treated to "pulse-pounding" moments while they played the games.