Paris House Prices Sputter as Hollande's Taxes Threaten Boom
Francois de Beaupuy and Caroline Connan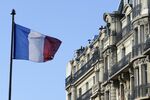 Paris home prices, which have risen 37 percent since 2009, are set to end their upward streak as French President Francois Hollande cuts property subsidies and raises taxes.
Government support for the housing industry ranges from lodging subsidies for students to tax breaks for renovation works and public construction, which totalled 45 billion euros ($59 billion) in 2011, or 2.25 percent of gross domestic product. Hollande is withdrawing some of that help as Europe's second-largest economy is on the brink of a third recession in four years, hurting property investors such as Bouygues SA.
"It's probably the trigger for a price decline which could reach 30 percent to 40 percent in five to 10 years," Pierre Sabatier, chairman of PrimeView, a Paris-based company offering research in areas such as real estate, financial markets and demographic development, said in an interview. On top of government's budget cuts, the market will suffer because of an aging population and stricter mortgage rules, he said.
Amid the worst economic crisis since World War II, French housing prices in the last decade outpaced growth in household incomes, sparing France from a similar property crash as in Spain, Ireland and the U.K. In Paris in particular, prices have surged as households fled falling stock markets and used real estate as a haven. In London, prices have rebounded 11 percent since 2009 and are still 17 percent below a 2007 peak. Madrid housing prices are down a third from 2007 records.
Hollande, a Socialist and the country's most unpopular French leader in more than 30 years, needs to find an additional 5 billion euros in spending cuts next year to keep shrinking the budget deficit.
Wealth Levies
The French President has raised the capital-gains tax on real estate as well as income and wealth levies last year, following similar moves by his predecessor in 2011. The president also tightened requirements for tax reductions for buy-to-let investments and interest-free loans for first-time home buyers, increased taxes on vacant properties, and is considering capping rents.
The measures are already having an impact on the property market.
The average price of previously owned apartments in the French capital fell 2 percent in the fourth quarter of 2012 from the previous three months, when values peaked at a record 8,440 euros per square meter, according to Paris notaries and government statistics office Insee. The number of sales slumped 21 percent in the quarter from a year earlier.
Discounts
The prospect of lower prices is already hurting demand. Residential property reservations at Bouygues' real estate unit fell 30 percent last year. To revive sales, Bouygues Immobilier is now offering a discount of 7,500 euros until April 14 for five-room apartments it plans to build. The company will also pay the transaction tax that's normally paid by the buyer.
Bouygues, which also owns television and phone assets, fell as much as 2.1 percent in Paris today and was down 1.7 percent as of 12:50 p.m., erasing this year's gain and valuing the company at 7.1 billion euros. Vinci SA, Europe's biggest builder, dropped as much as 2.9 percent and Eiffage SA, France's third-largest builder, declined as much as 2.5 percent.
While real estate investors may suffer, other people will benefit from declining real estate prices, according to Laurent Quignon, an economist at BNP Paribas.
"To attract workers to cities like Paris, employers have been forced to offer bigger salaries," he said in an interview. "Tenants also had to save to pay for their rent, which was detrimental to consumption," he said. Paris home prices have tripled since 2000.
Higher Wages
The need to pay higher wages for Paris-based employees also made some made businesses less competitive compared with rivals in countries such as Germany, where slower real estate inflation has helped cap labor costs.
"Properties are now staying on the market a bit longer than before," Martin Maynial, an estate agent at luxury-property broker Daniel Feau Real Estate in Paris, said in an interview. "The backlog has increased by more than 35 percent in recent months, due to the fact that rich people left France recently. And one of the main reason people are leaving France is for tax purposes."
The number of apartment sales in Paris fell 10 percent to 27,690 in 2012, compared with 26,540 transactions at the height of the recession in 2009, which was the weakest year since 1996, according to the notaries' records.
Based on pre-contracts that have already been signed, Paris property prices will probably continue to fall in coming quarters because households are in a wait-and-see mode as the economy weakens, the Paris notaries said last month.
Persisting Scarcity
Still, a scarcity of apartments may partly offset concerns about the economy and recent increases in taxes, they said. Bernard Cadeau, Chairman of Paris-based Orpi, the country's largest network of real-estate agencies, also said he sees strong future demand for Paris homes.
"Prices in Paris won't collapse because the market is imbalanced; everybody in the world wants to buy in Paris," he said in an interview. "But outside of Paris, they have to go down by 5 percent to 15 percent."
While prices in Paris might not collapse, a buyer now would have to wait a lot longer for a return on his investment, according to PrimeView's Sabatier.
"Don't buy at these prices if you're a first-time home buyer," he said. "It would take 31 years for a buyer to be better off than remaining a tenant in Paris."
Before it's here, it's on the Bloomberg Terminal.
LEARN MORE