With Boeing's 787 Grounded, Pilots Find Other Stuff to Do
Idled crews practice on simulators and lecture school kids
By and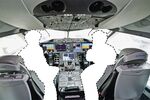 With the worldwide fleet of Boeing 787s grounded, Air India pilot Anjum Chabra has turned to hip-hop to lament his fate. "Ain't no flight for me here so ain't no Singapore/ Ain't no casino for me, so there's no money no more," raps the pilot in a humorous video posted on YouTube. "What kind of pilot am I/ Who sits at home most of the time, never gets to fly?"
Such is the plight of an estimated 600 Dreamliner pilots worldwide since the planes were grounded on Jan. 16, according to Ryota Himeno, an analyst at Barclays Securities Japan. Pilots, who can spend months training for new aircraft, usually don't fly more than one type of plane to reduce the risk of making a mistake in a different cockpit. "When you don't know when the aircraft will be ready to fly again, you don't want to cross that bridge of putting them onto another aircraft," explains Peter Harbison, executive chairman at consultant CAPA Centre for Aviation in Sydney.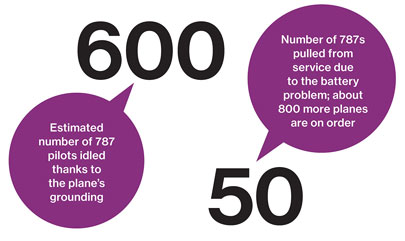 It's a "huge problem for the airlines that have already taken delivery of those aircraft," says Tony Tyler, chief executive officer of the International Air Transport Association. Even if their 787 pilots could be retrained for other models, says CAPA's Harbison, airlines most likely don't have enough spare planes for them to fly.
Government and company experts are still investigating the cause of a lithium-ion battery fire on a Japan Airlines Dreamliner in Boston and an emergency landing by an All Nippon Airways 787, both in January. The incidents led to the plane's global grounding, the first time in 34 years that an entire airplane model has been pulled from service. Boeing on March 12 was cleared by the U.S. Federal Aviation Administration to begin testing its proposed redesign of the 787's battery systems. Testing could take many weeks, and it's unclear when the plane will carry passengers again.
Dreamliner pilots at All Nippon, the biggest operator of 787s, have been visiting schoolchildren to talk about their jobs since their planes were grounded. At Den-En Chofu University near Tokyo last month, they talked to 120 elementary students, mostly six-, seven-, and eight-year-olds. ANA pilots are also training on the carrier's flight simulators in their free time, says spokeswoman Megumi Tezuka.
ANA, whose seventeen 787s make up about 7 percent of its fleet, has about 200 pilots qualified to fly the Dreamliner, says Tezuka. Rival JAL has 130 certified pilots who are observing flights on other planes and doing drills to maintain their skills, says Jian Yang, a spokesman for the airline. The carrier, which has seven 787s, isn't training any new pilots on the model. Of about 125 pilots who've completed 787 training at United Continental Holdings, some are able to return to the planes they were flying earlier if their certification is still current on those aircraft, says Jay Pierce, chairman of Continental's chapter of the Air Line Pilots Association.
Pilots can spend two to three months learning to fly 787s, depending on what they flew before, ANA's Tezuka says. The airline expects the grounding won't be long-term, she says, so it isn't considering having the pilots fly other aircraft. In February, Japan's transport ministry said pilots who are required to take yearly flight tests on their airplanes will not lose their 787 licenses if they can't be checked due to the grounding of the Dreamliner. During the plane's hiatus, ANA pilots' salaries are being cut about 20 percent as they lose allowances for flying at night and long distances, says Toshikazu Nagasawa, a director at the 4,500-member Air Line Pilots' Association of Japan. JAL pilots, who have a different pay structure, are losing about 30 percent, he says. As for Air India pilot Chabra, who couldn't be reached for comment, even after the 787s resume service, he might remain grounded: India's Civil Aviation Minister Ajit Singh says he asked the airline's chairman to take disciplinary action against the pilot.