Resort Project Abandoned by Lehman Comes Back to Life
New owners plan to finish Molasses Reef, halted in the crisis
by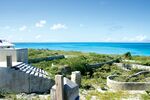 More than 1,300 miles from New York, on the uninhabited island of West Caicos, a group of European investors is helping to pick up the pieces from the collapse of Lehman Brothers. The new developers bought Lehman's stake in an unfinished luxury development called Molasses Reef in December, about four years after the bank's failure set off a global financial crisis—and stranded more than 400 Chinese construction workers at the site with semibuilt condos and weed-clogged swimming pools.
Lehman, once the world's fourth-largest investment bank, put up the majority of the money for Molasses Reef as part of its expansion into real estate before filing the biggest bankruptcy in U.S. history in September 2008. In the wake of its exit from court protection last year, Lehman is liquidating properties, including condos in Hawaii and office towers in Detroit. Lehman has paid more than $32 billion to creditors so far. It said in December that it raised $3.9 billion in the quarter ended Sept. 30 and another $1.6 billion in October and November, while its $6.5 billion sale of apartment owner Archstone is due to close by March 26.
The names of the purchasers of Lehman's stake in the West Caicos project, and the price they paid, haven't been disclosed. They were advised by Kew Capital, a London-based firm started by two former Credit Suisse executives in 2008 to advise Russian steel magnates Alexander Abramov and Alexander Frolov on how to manage "several billion dollars" of their wealth, Dow Jones reported at the time. "The investment reflects our conviction that Turks and Caicos Islands has a great tourism base and has enormous further tourism potential," Kew Capital said in a Dec. 14 statement. Kimberly Macleod, a spokeswoman for Lehman, declined to comment on the sale.
Building at Molasses Reef—a mix of condos, hotel suites, and parcels for homes—is expected to resume this year. Construction came to a standstill in 2008, when the project was about 70 percent complete. Some Chinese construction workers held their bosses hostage when an anticipated Lehman loan didn't materialize and wages they were owed weren't paid. The standoff ended after a week, when the workers got their money.
More than four years later, the cement shell of a hotel with views across turquoise water is mostly intact. Birds have built nests on the rooftops of some of the 30 unfinished condos, originally marketed from $2.5 million to $5.5 million, that line a stretch of beach on the island northeast of Cuba. About $300 million has been put into the project so far, with $200 million of that coming from Lehman, according to Matt McDonald, director of Logwood Development, the original developer, which has sold most of its interest to the European investors. McDonald estimates it will take about $130 million more to complete. "It's always been a unique project," he says.
Molasses Reef may signal a revival of Caribbean construction, says Andy Wimsatt, senior vice president of investment properties at CBRE and a former manager of the West Caicos project. "Investors now view Caribbean resorts as having hit bottom and improving," he says. "When the residential market there begins to warm up—and we're in the early stages of that now—you'll see a lot more activity."
Before it's here, it's on the Bloomberg Terminal.
LEARN MORE