Paul Ryan and Congress's Budget Divide
For the fourth year, he's back with a budget—and says he wants to deal
By and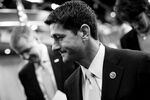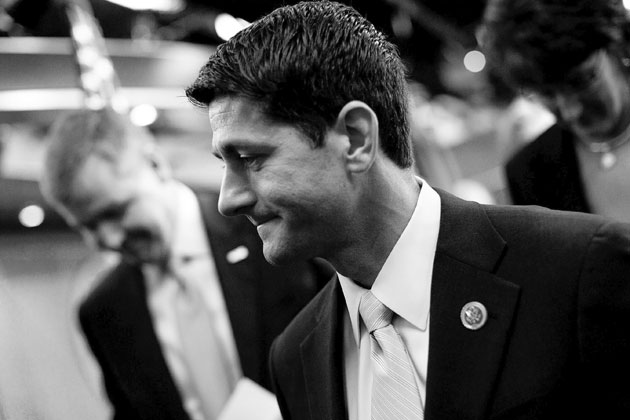 On March 12, in what has become a rite of spring, House Budget Committee Chairman Paul Ryan of Wisconsin unveiled his latest Republican budget. It barely differs from his earlier ones. Ryan wants to cut spending by $4.6 trillion over the next 10 years, enact deep cuts to Medicare and Medicaid, repeal the Affordable Care Act, and drop income tax rates to 10 percent and 25 percent. The budget's two novelties are: It balances in 10 years instead of 25, and it does so by maintaining Obamacare's $716 billion in cuts to Medicare providers and the $624 billion in tax increases from the Jan. 2 fiscal cliff deal—both of which most Republicans vehemently opposed.
The next afternoon, Senate Budget Committee Chairwoman Patty Murray of Washington rolled out the Democrats' alternative. It includes only $975 billion in spending cuts and an additional $975 billion in new tax revenue gained through closing loopholes. Her plan protects Medicare and expands Medicaid to cover more low-income Americans. "It's a very distinct contrast," says Idaho Senator Mike Crapo, a Republican on the Senate Budget Committee. "It's discouraging that we are continuing the age-old debate over whether to tax and spend or whether to put into place the kinds of spending restraints that will get us on a pathway to a balanced budget and the kind of tax reforms that will create a pro-growth economy."
What's notable about these dueling budgets is the gulf between them. Members of both parties pointed out Ryan's budget ignores that Americans soundly rejected its central ideas in the last presidential election. Ryan characterized his latest offer as "an invitation" to Democrats to negotiate through standard congressional channels, rather than strike another 11th-hour deal. "We want to revive the budget process," he said, "so that at the end of the day we have a vehicle to get something done."
Ryan will get his wish. The House and Senate have begun marking up their budgets—for Senate Democrats, the first they've produced since 2009. And despite the criticism, it's not entirely true that Ryan emerged from the election unchastened. His new budget adopts a slightly softer tone. The section predicting a debt crisis invokes the "Impact on the Individual," noting the number of police officers fired when Stockton, Calif., defaulted on its debt. There's a limit to how far Ryan can go without angering conservatives to his right, who are frustrated that he kept President Obama's tax increase and did not pursue deeper entitlement cuts.
Budget talks can be loosely divided into three categories: things no one plans to negotiate, things only one side wants to negotiate, and things both sides want to negotiate but are afraid to. Both parties consider Social Security off-limits: Democrats want more stimulus; Republicans want to restore funding for military programs squeezed by automatic spending cuts. But even though both sides have spent three years warily considering ending or capping tax deductions, neither has committed to touching the major ones: for mortgage interest, retirement savings, and medical insurance premiums. Ryan's budget doesn't rule that out; it simply defers to the House Ways and Means Committee, which will eventually produce something. "We can't go from crisis to crisis," says Republican Representative Frank Wolf of Virginia. "There's an element of fatigue."
Even so, it's hard to find anyone who believes that these competing budgets will be resolved in the way civics textbooks describe: passing through their respective chambers, having their differences ironed out in a conference committee, and ultimately being signed into law by the president. Republicans have succeeded in forcing Democrats to produce a budget and restoring "regular order" in Congress. But substantively, the two sides appear no closer to agreeing than before. "Ultimately," Obama told ABC News, "it may be that the differences are just too wide."
That's the working assumption in both parties. "To some extent, these budgets are a sideshow," says John Lawrence, former chief of staff to House Minority Leader Nancy Pelosi. "They won't ultimately govern the outcome of the substantive issues, which will get resolved elsewhere—the appropriations process, the continuing resolution, and the debt ceiling." In other words, the era of governing-by-crisis may not be over. And in the end, a backroom deal may still trump dreams of something as reassuringly mundane as a budget process.
— With assistance by James Rowley, and Roxana Tiron
BOTTOM LINE -
The bottom line: Democrats and Republicans have both introduced budget plans for 2013, setting up the possibility for the first real negotiation in four years.
Before it's here, it's on the Bloomberg Terminal.
LEARN MORE