Oil Trading 'God' Andrew Hall Makes a Home in Vermont
A $100 million trader makes organic soap, wildflower honey, and a few enemies
by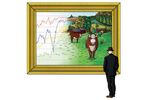 Andrew Hall is an oil trader who's made about $100 million in a single year. Now he has another pursuit: selling handmade lavender soap and grass-fed Angus beef sourced from his farm in Reading, Vt. Hall, 62, chief executive officer of Phibro, now the commodity-trading unit of Occidental Petroleum, has bought more than 2,400 acres in Reading, according to local real estate records. He has torn down at least a half-dozen homes in the central Vermont town (pop. 666) and last year opened an appointment-only art museum in buildings that once housed a dairy farm. "Look at the rest of the world—it's going to hell in a wheelbarrow, and he's trying to keep a little section of Vermont the way it was," says John Mitchell, a neighbor and former town auditor.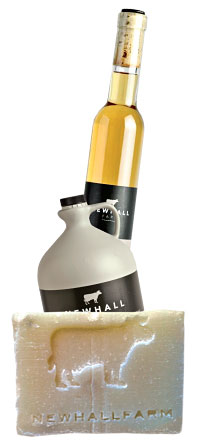 While Mitchell called Hall's work in Reading "wonderful," more than a dozen residents interviewed for this story say they are ambivalent, citing razed homes, a lower tax rate Hall pays on some land, and a dispute with a next-door neighbor over power lines.
A Briton who graduated from Oxford, Hall has worked at Phibro for more than 30 years. He wagered on skyrocketing oil prices in the last decade and is referred to as "God" by competitors, according to Tom Bower's Oil. The 2010 book cites Hall's skill at "causing the oil market to change direction, and forcing other traders to buy from him at a premium." Citigroup, which acquired Phibro in 1998, awarded Hall about $100 million for his work in 2008, according to a person at the bank with knowledge of his pay who asked not to be identified because the information isn't public. That was the year Citigroup received a $45 billion taxpayer bailout. Hall, who also runs the $4.8 billion hedge fund Astenbeck Capital Management, declined to comment on his pay. He wrote in an e-mail that his 18th century farmhouse and three guest homes are "modest in scale" compared with "other 'high-end' dwellings in Vermont."
Hall has been buying property in Reading since the 1980s, town records show, and his holdings there, including Newhall Farm, are worth more than $13.8 million. Land he owns valued at $6 million is enrolled in a state program called current use that lowers taxes on farms and forests to encourage agriculture and curb commercial development, the records show.
On its website, Newhall Farm features wood-fired maple syrup, which it sells for $65 a gallon, botanical soaps, ice cider, wildflower honey, eggs, and Berkshire-pig breakfast sausages. The products are sold in stores in Vermont and Connecticut and online. "It's kind of an enlightened Downton Abbey," says Laird Bradley, principal broker at Woodstock (Vt.)-based Williamson Group Sotheby's International Realty. "You can come up to a place like this, you can acquire some land, you can exercise vision, and you can do some things that really have an impact."
A new addition to Hall's Reading domain is the Hall Art Foundation, which displays works from the commodity trader's private collection. Children are "welcome at our discretion," according to the gallery's website. The inaugural exhibition features paintings by Georg Baselitz, whose castle in Germany Hall now owns, and Edward Burtynsky's large-format photographs of a Vermont quarry and waste from nickel production. The work shows mining's "environmental impact as an ecological wound," according to the foundation's website. In 2011, Hall's Astenbeck owned a stake exceeding $1 million in Rio de Janeiro-based Vale, one of the world's largest nickel producers, regulatory filings show.
Hall and his wife, Christine, who also own works by Anselm Kiefer and Eric Fischl, were included in a list of top collectors by ARTnews last year. A Fischl portrait of Hall and his wife nude on a beach was shown at Mary Boone Gallery in New York in February 2012.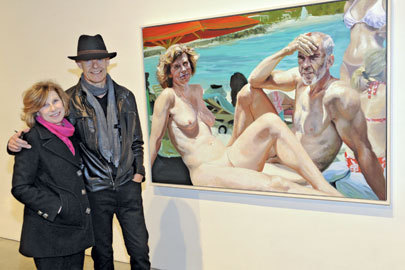 In Reading—where the general store is decorated with deer heads, and a recent town meeting featured a pancake breakfast, the Pledge of Allegiance, and a presentation by fifth-graders on goats—Hall draws mixed reviews. William Hunt, whose family has grown timber in Vermont for half a century, says the homes Hall bought and razed could have housed less-affluent locals. "The fact that he's buying up land and tearing houses down, I'm against that," Hunt says. "I think the people who grew up here should be able to live here."
Mitchell, the former auditor, says he had raised that issue with Hall and that the trader said the houses were uninhabitable. "And he's right," Mitchell says. In his e-mail, Hall said he has improved the area by contributing money and land and by buying dilapidated property. "The 'houses' that we razed were in general shacks, camps, or trailer homes," he wrote. "The sellers were happy to sell to us at prices that were MORE than fair."
Carol Boerner, who runs a clinic north of Reading offering face-wrinkle reduction, says she is pleased with the changes. "I'm a yuppie," she says. "I like pretty."
Hall has been involved in a dispute with a Newhall neighbor over a proposed power line route through Hall's property to electrify Carl Stariknok's house and hunting camp. The Vermont Public Service Board investigated last year. "I should have gotten power with no questions asked, without a war," Stariknok says, driving past Hall's farm toward the camp, which is decorated with hornets' nests, turkey feathers, and raccoon tails. Although Vermont law requires utilities to provide service, customers have to pay to secure rights-of-way, according to a report on the dispute. It recommended closing the investigation, citing Stariknok's concerns about expense and court time. "You can't fight big money," says Stariknok, who has instead installed solar panels. Hall wrote in his e-mail that he would have granted an easement if the power lines were buried, "for aesthetic reasons," and offered to pay half the burial cost.
A Newhall sign greets drivers on the road to the Hall and Stariknok properties. The Burlington (Vt.)-based ad agency Shark Communications updated Newhall's logo "from one of 'farm' to something closer to 'estate' quality," according to a 2010 Shark blog post. Branding changes would help Newhall sell new products "in upscale locales" and "chichi boutiques everywhere," the post said. "He keeps everything in a Vermont style, the way Vermont should look," says Sally Barngrove, a neighbor. "He's a Brit. I suspect that this part of Vermont is maybe a little reminiscent."
Before it's here, it's on the Bloomberg Terminal.
LEARN MORE