Norway's Krone Sinks as Norges Bank Signals Rate May Be Cut
Josiane Kremer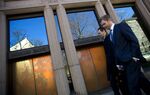 Norges Bank signaled a potential interest rate reduction later this year as the krone's appreciation to a record cooled growth and inflation in Europe's second-richest nation.
The krone slumped 0.9 percent to 7.5095 per euro as of 11:49 a.m. in Oslo, the biggest loser among the 17 major currencies tracked by Bloomberg. Policy makers predicted the overnight deposit rate will average as low as 1.40 percent in the third quarter, after keeping it unchanged at 1.5 percent for a sixth consecutive meeting.
"There's a slight probability along the path for a cut but it's quite moderate," Governor Oeystein Olsen said in an interview in Oslo after the rate announcement.
Policy makers, who have seen the currency surge about 22 percent against the euro since early 2009, are caught between protecting exporters and the need to cool a surging property market. The bank has kept rates near a record low for 12 months after cutting twice in 2011 and 2012 as the krone emerged as a haven from Europe's debt crisis. Low rates spurred household borrowing and sent private debt levels to a record.
Currency War
"Norges Bank probably surprised even the most dovish expectations today with substantial revisions of the rate path," said Carl Hammer, chief currency strategist at SEB AB in Stockholm, in a note. "Considering activity in the Norwegian economy Norges Bank is clearly taking part in the global currency war to weaken its currency."
The central bank today predicted that rates will stay below 1.5 percent until the first quarter of 2014. The bank also forecast mainland economic growth, which excludes oil and gas production and shipping, will slow to 2.75 percent this year from 3.5 percent last year. Inflation will hold below the 2.5 percent target through 2016, the bank also predicted.
Lowering of the rate forecast is the "right signal to the currency market," said Knut E. Sunde, an official at the Federation of Norwegian Industries. "The result will be a weaker krone, which is good news for industry."
Weak global growth prospects have prompted central bankers in the euro area, the U.S. and Japan to resort to additional stimulus measures. The Swiss central bank today pledged to keep up its defense of the franc cap after almost doubling its currency holdings to shield the country from the fallout caused by the euro zone's crisis. The bank cut its forecasts for inflation and said it will take all necessary measures to keep the "high" franc within the limit of 1.20 per euro.
No Ambition
The Norwegian currency rose to a record on a trade weighted basis on Feb. 13, closing at 84.30. Olsen said two days later that the bank was prepared to cut rates to counter further strength. The bank today forecast that the index will be at 85.5 this year and strengthen to 84.5 next year. A lower index level indicates a strengthening.
"Of course, what we do influences the krone but we have no ambition of controlling the krone, so we just react on the developments that we observe," Olsen said today.
To cool Norway's overheated housing market, the government wants banks to set aside more capital for home loans. A Finance Ministry proposal to triple risk weights on mortgages prompted DNB ASA, Norway's biggest bank, to announce higher mortgage rates last week. Other banks, including Nordea Bank AB's Norwegian unit, followed suit this week.
Capital Buffers
House prices in western Europe's largest oil exporter have doubled since 2002, and rose an annual 8.5 percent last month. Private debt burdens will swell to more than 200 percent of disposable incomes this year, the central bank estimates.
The central bank today in a separate report recommended banks add so-called countercyclical buffers and said it will issue "concrete advice" on level and timing later this year after the government puts capital requirements in place.
"The risk of financial imbalances suggests that banks should increase their capital," Olsen said in a statement. "A countercyclical buffer will give banks more capital to draw on in an economic downturn."
Before it's here, it's on the Bloomberg Terminal.
LEARN MORE