Innovator: Martin Riddiford's Gravity-Powered Lamp
Clean, Cheap Light, Powered by Gravity
by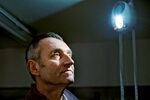 Hazardous kerosene lamps, still used in many developing countries, are a major expense for many of the world's estimated 1.5 billion families without electricity. Poor households typically spend at least 10 percent of their income on kerosene, as much as $36 billion a year worldwide, according to the World Bank. So far, efforts to use solar energy to power lights in developing nations have run up against cost and technical challenges. Attempts to use hydroelectric microgrids or repurpose old car batteries have also been problematic, says Joe Hale, president of the nonprofit Global BrightLight Foundation.
Gravity could help. British industrial designer Martin Riddiford has created a pineapple-size lamp powered by a 25-pound weight that falls about six feet in a half-hour. That may not sound like much, but it's enough to drive a silent motor at thousands of rotations per minute. The GravityLight, which shines slightly brighter than most kerosene lamps, requires a certain amount of elbow grease: Once the weight reaches bottom, it must be manually lifted to repeat the process.
Riddiford, 57, a co-founder of London-based product design firm Therefore, got the idea four years ago after leaving a meeting with a charity interested in solar tech. "I just sort of had this vision of, well, why can't you use human power and store it as potential energy rather than in a battery," he says. The designer, whose Brinlock Abacus calculator was the first with number-shaped buttons, and whose firm has developed products for Toshiba, Samsonite, and Nike, says he regrets not having done charitable work overseas in his youth and hopes to make up for it with his light. The first prototype, a large-scale contraption involving a bicycle wheel and a windup LED flashlight, was refined over four years into its current cheap yet durable plastic version. "It's technically quite tricky to get it so it doesn't jam, but we solved that problem through lots of experimentation," Riddiford says.
GravityLight will have its first field tests this summer in Africa, Asia, Latin America, and the Middle East. Once Riddiford's team works out the final kinks, the basic model will retail for about $5. Therefore is also weighing development of a brighter version with more settings for camping and emergencies, and may eventually use its gravity-based technology to develop a cell phone charger.
In December, Therefore pitched the lamp on crowdfunding site Indiegogo to help cover production costs, and in a month received $400,000, far more than the $55,000 it sought. Bill Gates called GravityLight "a pretty cool innovation," and Therefore says donors and potential partners range from soda companies to the U.S. Department of Defense. "It's such a clean source of light, and it's easy to operate," says Global BrightLight Foundation's Hale. "The market is unlimited for them." Still, before GravityLight goes to market, Riddiford says, "It will have to stand the test of four continents trying to kill it, trying to stamp on it, destroy it, and use it and abuse it."
Before it's here, it's on the Bloomberg Terminal.
LEARN MORE