Geneva Isn't as Crime-Free Anymore
A rash of muggings is tarnishing the city's sterling reputation
By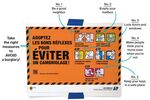 Most major European cities would be very happy to have Geneva's crime record. There were 2,248 assaults in the city of 471,550 in 2011, down 9 percent from a year earlier, according to Geneva police. Six people were murdered, and each case was solved. A 2011 study by New York-based consulting firm Mercer named Geneva the sixth-safest city in the world.
Geneva is no longer the idyll it long fancied itself. Ever since Switzerland joined Europe's passport-free Schengen Area in 2009 and began allowing people to drive across the border without stopping at immigration, property crime in Geneva—home to 132 banks and some of the world's richest financiers (not to mention their watchmakers and jewelers)—has swelled. Bag-snatching increased 28 percent, and pickpocketing climbed 43 percent in 2011, according to Geneva authorities.
Amid concerns that the uptick in muggings is taking a toll on the city's international image as a safe and efficient international business center, police have launched a new public information campaign and are plastering the city with posters that warn residents to "take the right measures to avoid a burglary." Be a good neighbor, the posters say. Lock all doors and windows. And don't leave the house keys underneath the welcome mat.
These crime-fighting tips might seem laughably obvious to people in many major cities. But Geneva police face the special challenge of trying to undo habits that residents formed long ago when the city was a near-crime-free paradise. "In 1980 you could leave a property open," says Pierre Chollet, assistant mayor of Anières, a sleepy Geneva village of 2,500 where lakefront homes sell for more than $20 million. "Now you have to lock the doors and install an alarm."
Many Genevans say the open borders have made it too easy for gangs from neighboring France to enter, pull off a heist, then escape unnoticed. In Anières, burglars hit a local cafe and at least four homes during the past 18 months, says Teresa Neciosup, a waitress at Au Petit Panier. The threat of thefts prompted the village to hire a private company to patrol the streets.
The commodities trading firm Trafigura, which used to get its business travelers hotel rooms in the Les Pâquis neighborhood, declared the red-light district off-limits after some visitors got pickpocketed. SGS, the world's biggest product-testing company, stopped holding special events at its headquarters just outside Les Pâquis after visiting Chinese officials had their passports stolen from a bus parked nearby. The company also began offering free self-defense classes for employees following the assault of at least three executives. "We're saddened by the way the neighborhood is turning," says Olivier Merkt, SGS's general counsel and a Swiss who's lived in Geneva for 20 years. "The city could do more to improve the upkeep of the place."
Pierre Maudet, the 35-year-old security minister of Geneva who came up with the public information campaign after taking office last year, says the city is boosting the number of police it assigns to burglary cases. It also plans to spend $444 million doubling prison capacity. "I'm determined to reverse the trend," says Maudet, whose own office was sprayed with graffiti in February. "Guaranteeing an image of safety for Geneva is crucial, including for international companies based here."
Getting residents to see police as their ally, not their overlord, will be key to the success of Maudet's initiative. As Edward Flaherty, a senior partner at the Geneva law firm Schwab, Flaherty & Associates, says, Geneva "isn't a utopia anymore." At the same time, he adds, "We don't want to live in a Gestapo state with customs officers picking through our groceries."
BOTTOM LINE -
The bottom line: After pickpocketing surged 43 percent, Geneva authorities are cracking down with more police patrols and a PR campaign.
Before it's here, it's on the Bloomberg Terminal.
LEARN MORE