Wharton Disinvites Controversial Keynote Speaker
Francesca Di Meglio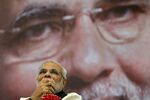 The Wharton India Economic Forum (WIEF), an annual student-run conference hosted by the University of Pennsylvania's Wharton School and scheduled to take place March 23, is embroiled in controversy. Forum organizers disinvited one of its keynote speakers, Narendra Modi, chief minister of Gujarat, a state in western India, on Sunday after university professors wrote a petition condemning Modi as a leader. The petition was signed by more than 300 people both in the university community and other parts of the world.
"Many of us did not think it was appropriate to have him as the main speaker at the forum," says Toorjo Ghose, assistant professor at the university's School of Social Policy & Practice, an Indian native, and a co-writer of the petition. "The main speech is given by someone the school supports, and he has a spotty record on human rights and development politics."
In 2002, Human Rights Watch, an independent organization to defend human rights, reported that state officials of Gujarat were directly involved in the killing of thousands of Muslims at a time when anti-Muslim riots erupted in violence. Modi and his supporters have strongly denied their involvement.
Since then, Modi has made a name for himself as a proponent of business in Gujarat, which reportedly has the country's lowest unemployment rate and has been attracting more and more investment. If Modi's political party wins in national elections in 2014, he could become India's prime minister. Members of the Penn community, however, argue that Modi is a poor choice for speaker because he has blood on his hands.
"This is the same politician who was refused a diplomatic visa by the United States State Department on March 18, 2005 on the ground that he, as Chief Minister, did nothing to prevent a series of orchestrated riots that targeted Muslims in Gujarat," reads the Penn petition. "The most conservative estimates are that over a thousand people, mostly Muslims, died in those riots. Thousands more were forced to leave their homes and businesses. Human Rights Watch (among other international and Indian bodies) showed that politicians and the police in the state abetted the slaughter and displacement of Muslim Gujaratis."
As a result of the petition, WIEF canceled Modi's keynote address, which was supposed to be delivered by videoconferencing because he does not have a visa to travel to the U.S.
"The student organizers of the upcoming Wharton India Economic Forum have announced that they have cancelled the proposed keynote address by Mr. Narendra Modi," according to a written statement provided by the Wharton School communications department. "We appreciate the efforts our students have put forth in organizing this event and regret any confusion that may have been caused by the change in program."
Ghose is pleased with the outcome. Members of the community, he says, seized their right to free speech and injected life into the debate about whether Modi deserves to become prime minister. "His state is one of the five worst in India for feeding children, and if you can't feed the children, you can't be touted as a development expert," Ghose says. "We're not against his right to speak. We just didn't think this was appropriate, because it was as if we were endorsing his practices and brand of politics."
Join the discussion on the Bloomberg Businessweek Business School Forum, visit us on Facebook, and follow @BWbschools on Twitter.
Before it's here, it's on the Bloomberg Terminal.
LEARN MORE