Sheryl Sandberg's Book Offers Little for Working Moms
Sheryl Sandberg's new book is a useful guide for becoming the next Sheryl Sandberg. What about the rest of us?
Allison Pearson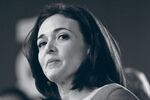 In 2003 two professors at Columbia Business School and New York University gave their students a case study to test attitudes about gender in the workplace. Half the students got the real-life story of Heidi Roizen, who became a successful venture capitalist by using "her outgoing personality and … vast personal and professional network." The other half received exactly the same study, but with one vital difference: The name Heidi was changed to Howard.