Junk Bond Sales Boom as Risk Rises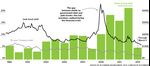 Wall Street banks are helping companies sell record amounts of junk bonds as strong demand lifts prices and lowers yields. The problem for investors who buy now is that they stand to suffer losses if interest rates rise, as is widely predicted.
Before it's here, it's on the Bloomberg Terminal.
LEARN MORE