Bloomberg View: The Stock Market's Rational Exuberance
The Dow's record-setting rally is cause for cheer and caution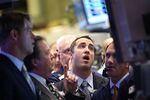 The stock market, in normal times a reliable proxy for an economy's health, continues to set records. And why not? Corporate profits are higher than ever. Housing is springing back. Auto sales are on pace for the best year since 2007.
At the risk of sounding like party poopers, these aren't normal economic times, and the stunning four-year rally, during which almost $10 trillion has been restored to U.S. equities, is both a welcome trend and a reason for worry. Individual investors who are tempted to join the party should take special care.
Share price increases tend to feed on themselves because they coax more investors into buying. This is especially true of individual investors, many of whom steered clear of stocks after the 2008 crisis and are now piling back in. In January, equity mutual funds, which cater to retail investors, registered a net inflow of almost $38 billion, the highest monthly amount in nine years, according to the Investment Company Institute, a trade group. The previous month, investors pulled almost $31 billion out of these funds.
Now for the warnings. A rising stock market can be an illusion. This one is soaring largely because other forces are at work (or not working at all) in the political economy. The Federal Reserve's aggressive bond-buying and record low interest rates are forcing yield-hungry investors to buy stocks. At some point the Fed will reverse course by selling assets and raising interest rates. In turn, that will give investors other options beyond stocks, potentially driving down prices.
Then there are those booming corporate profits. They are less a reflection of a strong economy than an extremely weak job market. With unemployment at 7.9 percent, workers have little bargaining power, allowing companies to keep labor costs down and pass on more profits to shareholders. The share of labor income in the economy has been hovering around the lowest levels since the mid-1960s. This trend, too, could reverse if and when unemployment falls, pushing up wages, crimping corporate profits, and lowering share prices.
None of this is to say don't invest in stocks. Nor is it to say a bubble has formed, like the technology boom of the late 1990s and the housing-fueled runup of the mid-2000s. The evidence may even point in the opposite direction: The price-to-earnings ratio—what it costs to buy a dollar of a company's profit—for stocks in the Standard & Poor's 500 index is 16 percent below the level at the end of 2009.
Just don't try to time the market by jumping in and back out when you think the peak has been hit. And by all means, imitate Warren Buffett and invest for the long term.
Before it's here, it's on the Bloomberg Terminal.
LEARN MORE