Bloomberg View: The Case for Shrinking the U.S. Military
Meaningful Pentagon savings require a smaller Army and Marine Corps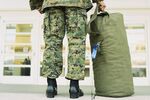 Blinking for the first time since budget sequestration went into effect, House Republicans want to restore $10 billion to a category of Pentagon spending that few Americans probably know exists: "operations and maintenance." O&M, which includes everything from upkeep of military hardware to flight-simulator training to salaries for the department's 800,000 civilians, is the biggest platter on the Pentagon budgetary buffet, at $209 billion for fiscal 2013. Pay and benefits for troops are second at $135 billion, and weapons purchases lag at $98 billion.
While runaway spending on F-35 fighters and other big-ticket programs needs paring, solving the Pentagon's long-term budget problem will depend greatly on cuts in the number of troops and the backup army of civilians and contractors that supports them, as well as smart reforms to pensions and health care.
Any plan to reform personnel costs has to recognize the extreme sacrifice of the men and women in uniform. Congress has done so, perhaps too generously, increasing active-duty compensation by 28 percent since 2000. Bringing pay increases in line with the Employment Cost Index would save $16.5 billion over the next five years, according to the Pentagon.
For savings of an entirely different magnitude, however, we will need to envision a much smaller military. Among those thinking radically are retired Admiral Gary Roughead, a former chief of naval operations, and Kori Schake of the Hoover Institution, who have mapped out a plan reducing the Army to 290,000 soldiers from a proposed 490,000 and the Marine Corps to 172,000 from the current 202,000, while boosting the Army Reserves and National Guard by 100,000. More realistically, simply going back to 1990s levels—with 450,000 in the Army and 160,000 Marines—would save $80 billion over a decade.
Health-care costs in the military have risen by 300 percent since 2001. Lawrence Korb, a former assistant secretary of defense, and his colleagues at the Center for American Progress have outlined reforms—hiking enrollment fees, limiting double-coverage for retirees who pursue second careers, and raising co-pays—to save $9 billion a year. Meanwhile, the Pentagon's Defense Business Board in 2011 proposed a better system for future troops that would introduce 401(k) plans, raise retirement ages, limit annual payouts to younger retirees, and benefit all those serving more than five years. This could save $70 billion a year by 2034.
As for that giant operations and maintenance account, the Pentagon simply may have too many people on the payroll who are not service members and too many bases in the U.S. and abroad. It should eliminate 110,000 jobs and reduce overlap among combat commands. Base closings are a political minefield, but commissions from 1988 to 1995 did four rounds of shuttering excess facilities in a manner that the services and Congress perceived as fair. It's time to repeat the exercise.
BOTTOM LINE -
To read Mark Buchanan on financial systems and Susan Crawford on "free" wireless Internet access, go to: Bloomberg.com/view.
Before it's here, it's on the Bloomberg Terminal.
LEARN MORE