pursuits
Who Serves the Best Fast-Food Coffee?
Burger King is the latest franchise to upgrade its brew. Three expert snobs pick a winner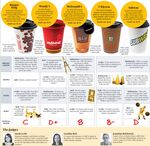 Three coffee connoisseurs sit down for a taste test to pick the best quick cup. Interviews by Keenan Mayo and Venessa Wong
Before it's here, it's on the Bloomberg Terminal.
LEARN MORE