M&A News: Japan Tobacco, Elan, Shell, Repsol, KKR, Gardner Denver
Noteworthy expenditures of the week
By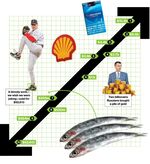 1. The Japanese government will sell a stake in Japan Tobacco, maker of Winston and Camel brand cigarettes, for about $10.3 billion to cover reconstruction costs from the country's 2011 earthquake.
2. RP Management, a London investment firm, has offered to buy Elan for about $6.5 billion, challenging the Irish drugmaker's plan to embark on its own acquisitions.
3. Royal Dutch Shell will buy liquefied natural gas assets from Spanish oil company Repsol for $4.4 billion to expand in Latin America and Spain.
4. New York-based buyout firm KKR offered about $3.7 billion for industrial equipment maker Gardner Denver, says a person familiar with the matter.
5. Russian billionaires Zelimkhan Mutsoev and Gavril Yushvaev paid $3.6 billion for Mikhail Prokhorov's 37.8 percent stake in Polyus Gold International, the country's largest producer of the metal.
6. Beijing-based Sinopec will pay $1 billion for a 50 percent stake in 850,000 acres that Chesapeake Energy controls in the Mississippi Lime formation. The deal involves drilling rights.
7. Singapore's Pacific Andes Resources Development, a supplier of frozen seafood, bid $556 million for Peru's Copeinca, which produces fish meal and fish oil from anchovy.
8. MSC Industrial Direct will pay $550 million for the North American distribution business of Barnes Group, a Connecticut company that makes aircraft components.
9. France's PPR is selling two digital and catalog retailers of home goods and apparel that form part of its Redcats unit to a fund run by Swedish buyout firm Nordic Capital for $364 million.
10. A blood-stained sock worn by Boston Red Sox pitcher Curt Schilling in the 2004 World Series against the St. Louis Cardinals fetched $92,613 at auction.
Before it's here, it's on the Bloomberg Terminal.
LEARN MORE