Q&A: Duke's Bill Boulding on Fuqua's Future
by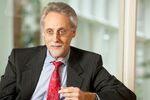 Duke University named Bill Boulding dean of its Fuqua School of Business earlier this month. It will be his first full term as dean, having served in that capacity since August 2011, when he replaced Blair Sheppard. Boulding, 57, spoke with Bloomberg Businessweek's Erin Zlomek about his plans as dean. He talked about the school's growing presence in emerging markets, the MBA concentrations Fuqua has become known for, and about a certain alum who happens to run a pretty large consumer electronics company in Cupertino, Calif. Below are edited excerpts of the conversation.
Now that you've been appointed, what is your first priority?

This year we rolled out an experiential learning component that gives the school a footprint in Brazil, South Africa, China, and the U.S. It launches this spring. Students will be matched with real consulting projects and they will be on the ground for two weeks in cities such as São Paulo, Shanghai, and Johannesburg. We want to be embedded in these locations.
Fuqua is one of the few top business schools that didn't share details about their financial aid and scholarship packages with Bloomberg Businessweek last year. (Wharton, Booth, and Haas also didn't share.) What is your status in this area?
We launched a $100 million capital campaign last fall that is not about physical facilities. There are three priorities, and a huge part is to fund more scholarships. The others are innovations within the program and to attract and retain the best faculty. We are $46 million towards that goal and the campaign will run until the end of June 2017. Some of the scholarship money will be immediately available as the gifts come in. There will also be some named fellowships associated with major gifts, and we expect to make an announcement related to that over the summer.
Applications have declined at several top MBA programs. At Fuqua they were down 7 percent as of September. Is the school doing anything in response?
The drop is something all business schools have to pay attention to. Part of it is due to economic conditions and part has to do with the degree's return on investment.
Let me put it this way: I had a conversation with someone from an earlier generation who, in their younger years, thought social activism was the way to get things done in the world. Now this person really believes that business offers the platform to change the world. I think maybe Fuqua will start to attract people who didn't initially think of business as the way to get things done.
Does that mean you're trying to attract would-be law—and other types of prospective master's—students?

I don't think of it as a competition against those programs. I do think it means we have an advantage at Duke by being able to combine with the schools of public health, medicine, law, public policy, and the environment.
We will continue to go down the path of creating specializations within our overall MBA program in areas such as health-sector management. Same for areas such as energy and the environment and financial services.
One of your most famous alums is Apple Chief Executive Officer Tim Cook. The company more than tripled the number of Fuqua grads it hired between 2005 and 2010. Talk about the connection there.
Tim is a fantastic asset for the school. He is someone who has made the choice that business is going to be the way he makes a difference in the lives of others. Just look at the interview he did with [Bloomberg] Businessweek, where he quotes J.F.K.: "To whom much is given, much is expected." He is a role model for our current students, in terms of what he has been able to accomplish and that he has kept those values and is living them out in a very genuine and powerful way.
There are other Duke connections on Apple's senior leadership team. Jeff Williams (senior VP of operations) is a Fuqua alum and Eddy Cue (senior VP, internet software and services) is a Duke alum. The reason they're hiring Fuqua students comes back to what we produce and who we attract, and that's people who understand how to co-create and take advantage of a team's potential. It's people who are personally humble, tremendously ambitious, and have no sense of entitlement.
Join the discussion on the Bloomberg Businessweek Business School Forum, visit us on Facebook, and follow @BWbschools on Twitter.
Before it's here, it's on the Bloomberg Terminal.
LEARN MORE