Diamonds Valued at $50 Million Stolen at Brussels Airport
Aoife White and Andrew Clapham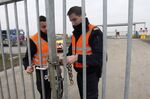 Armed gunmen stole diamonds valued at $50 million in a raid at the Brussels airport as the gems were being loaded onto a plane bound for Switzerland.
"It was about $50 million of rough and polished diamonds," Caroline De Wolf, a spokeswoman for the Antwerp World Diamond Centre, said in a telephone interview. Eight armed and masked men used two black cars in the operation last night, she said.
The vehicles breached the airport perimeter shortly before 8 p.m. local time yesterday and grabbed about 120 packets containing "mainly diamonds," Ine Van Wymersch, spokeswoman for the Brussels prosecutor's office, told a press conference today. No shots were fired and no one was injured, she said.
The gems were in the cargo hold of a Helvetic Air plane operated by Swiss International Air Lines Ltd. that was preparing to depart for Zurich, said Jan Van der Cruysse, a spokesman for the airport. The thieves stopped at the plane for just three minutes and the whole operation took just over 10 minutes, he said.
"It was very well organized, very swift, efficient and well planned," Van der Cruysse said in a telephone interview.
Susanne Muehlemann, a spokeswoman for Swiss, a unit of Cologne, Germany-based Deutsche Lufthansa AG, confirmed the theft from a Fokker 100 aircraft it leased from Helvetic.
Airport Fence
The robbers flashed guns at the pilots and security workers before forcing open the cargo doors and taking the packets of gems from inside, Van Wymersch said. The "heavily armed and masked men" then drove away at high speed. She didn't rule out that airport workers were involved, saying "the investigation is running, everything is open."
The gunmen used vehicles with flashing blue lights similar to police cars and wore outfits resembling dark police clothing, the Associated Press reported. They forced their way through the airport fence at a place where two work sites obstructed a clear view, according to the AP.
A vehicle believed to have been used in the heist was later found in the town of Zellik, about 18 kilometers from the airport, said Anja Bijnens, another spokeswoman for the prosecutor's office.
The AWDC urged "additional security measures" be put in place to safeguard air transport of gems, according to a statement from the Antwerp-based organization.
"We find it hard to understand how a robbery such as yesterday's heist could take place," De Wolf, the AWDC spokeswoman, said in the statement. "We do fear the damage for Antwerp, the world's leading trade center, is significant."
The Brussels airport is 42 kilometers from Antwerp, Belgium's second-largest city and the biggest trading hub for rough diamonds, handling four-fifths of the world's trade.
Before it's here, it's on the Bloomberg Terminal.
LEARN MORE