Why Actavis, a Generic Drugmaker, Tops the BBW50
The pharma company is expanding its global footprint and adding brand-name drugs to its generics
by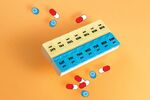 1: Actavis
Market Cap: $11b
Revenue: $5.7b
EPS: $1.29
 
Five years ago, Paul Bisaro took over Watson Pharmaceuticals, a company that rang up 99 percent of its sales inside the U.S. "For us to be successful as a first-tier generics company, we had to have a global footprint," he says. It cost $5.61 billion, but the Parsippany (N.J.)-based company has one now. That's the price Watson paid to buy Icelandic competitor Actavis and assume its name in a deal that closed late last year. Since then the stock has climbed 24 percent, capping a five-year stretch over which the shares gained 231 percent. That performance helped drive Actavis to the top of this year's Bloomberg Businessweek 50 ranking of top-performing companies in the Standard & Poor's 500-stock index.
Actavis is now the fourth-biggest generic drugmaker by sales. IMS Institute for Healthcare Informatics projects generic sales will increase at least 65 percent from 2011 to 2016, to more than $400 billion, compared with 3 percent to 8 percent in the larger branded market.
Bisaro has set a goal of increasing earnings by double digits every year, as the company has done since 2008. "That's a tough ride to match," he acknowledges. To reach his target, the chief executive officer is eyeing emerging markets, where rising incomes mean people are spending more on health care. And instead of buying the cheapest drugs available, they're stepping up to manufacturers like Actavis, whose brand signals better quality, Bisaro says. The company is targeting former Soviet-bloc countries: "They have oil money in Kazakhstan, so there's disposable money there." Bisaro is also looking to Southeast Asia, a region he says has 600 million potential customers.
While keeping its focus on generics, Actavis has expanded into higher-margin brand-name drugs including Rapaflo, a treatment for enlarged prostates, the topical testosterone treatments Androderm and Androgel, and an emergency contraceptive called Ella. Brand names are expected to account for about 7 percent of sales this year.
Adding branded drugs and chasing growth overseas has pleased Wall Street, but it's a riskier strategy than sticking to selling generics in the U.S. "They're likely the best generic management team on the street," says Ken Cacciatore, an analyst at Cowen Group, who has a neutral rating on the stock. "The next leg is going to be more difficult than the last, but it's also going to be more lucrative."
Last year the Food and Drug Administration rejected Actavis's Prochieve, a drug to prevent premature births. The stumble has made the company more cautious. To mitigate its risks in drug development, Actavis is taking on partners. Bisaro struck a deal at the end of 2011 to pay Amgen, the world's biggest biotechnology company, $400 million to jointly develop so-called biosimilars, copycat versions of expensive biotechnology drugs.
Bisaro, who expects sales of generics overseas will eventually account for half of Actavis's revenue, is discovering the challenges of competing in a global market. He says the U.S. tax structure means "we're forced to move more jobs overseas so we can get a lower tax rate and be competitive" with foreign rivals. "You're subject to 60 different governments that could do things that they think make sense but at the end of the day really don't," he says. "That's what keeps me up the most."
Before it's here, it's on the Bloomberg Terminal.
LEARN MORE